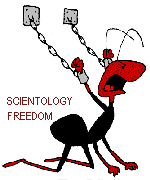 THE SCIENTOLOGY ENEMIES LIST
---
From: Anti-Cult
Well, here we go. This organization of bullies and thugs, that scream their heart out for being what they claim persecuted in Europe, and that claims to be protecting religious freedom all over the world is a bunch of liars. Here we have their own list of enemies, that they are out to destroy at any cost. Now, they are once again proving that they want to silence all criticism on this NG, with all possible spam.
We see here both organizations / groups, and private citizens of different countries. These citizens, have been declared as Suppressive Persons, or SP's by this so-called church. The organizations/groups have been declared as Suppressive Groups. So much for their ideas of religious freedom, and freedom of speech. I don't think I need to say much more, the list below speaks for itself. Remember though, that this list is from 1992. Today they have most certainly added hundreds of more names and organizations that the criminal cult of scientology have decided they must destroy. Read and be scared. I hope this once and for all silence their claim to be a peaceful and freedom loving organization. They sure are not, it's clear and evident. Please, forward this list to your legislators and politicians, as part of the evidence of what scientology stands for. To anyone out there, that has a more recent list, I urge you to contact me on the E-mail address stated in my signature at the bottom of this article. I promise you that I will not reveal your identity if you choose to be anonymous. You can use an anonymous remailer freely available on the Internet if you like that.
***Scientology stands for fascism, and the end of every human rights possible. Scientology stands for totalitarianism, and the destruction of all freedoms that we know of. Religious freedom will be abolished in a scientology ruled world. Freedom of speech will be abolished in a world were scientology has any power whatsoever. Inform yourself, about the evil criminal cult of scientology, inform your children, your friends, your neighbors, your politicians, your legislators.***
Mainpage: http://www.users.wineasy.se/noname/index.htm
Links to many critics: http://www.users.wineasy.se/noname/linkpage.htm
Multimedia: http://www.users.wineasy.se/noname/multimed/index.htm
---
THE SCIENTOLOGY ENEMIES LIST
This list contains the names of organizations and people Scientology considers to be "suppressive" and "fair game." The 1992 Flag Order which listed these names also asked staff people to report by telex to the International Justice Chief.
If you know any of these people or organizations, please let them know they are on Scientology's enemies list for their protection and safety.

SUPPRESSIVE GROUPS

* = GROUP VERIFIED AS DISBANDED

	ABC
*	ABILITIES UNLIMITED
	ABILITISM
		A/K/A 	INSTITUTE OF ABILITY
		A/K/A	INSTITUTE OF HUMAN ABILITY
		A/K/A 	CHURCH OF ABILITY
	ABILITY FOUNDATION
	ABILITY METERS INTERNATIONAL
	ACCELERATED LEARNING INSTITUTE
	ACTUALIZATIONS
	ADVANCED ABILITY CENTERS:
*	AAC ADELAIDE
*	AAC ALASKA
	AAC ANN ARBOR
*	AAC CANDACRAIG, SCOTLAND
	AAC DENMARK
		A/K/A	FORENING FOR ANVENDT FILOSOFI
	(ASSOCIATION FOR APPLIED PHILOSOPHY)
	AAC EAST GRINSTEAD
		A/K/A	CENTER FOR APPLIED METAPSYCHOLOGY
	AAC EDINBURGH
		A/K/A	CENTER FOR APPLIED METAPSYCHOLOGY
*	AAC FLORIDA
*	AAC GISERNEL
*	AAC ITALY
	AAC JOHANNESBURG
*	AAC LAUGENTHAL
*	AAC MADRID
*	AAC MIAMI
*	AAC MILANO
*	AAC MILWAUKEE
*	AAC MONTECITO
*	AAC MONTREAL
	AAC PALO ALTO
*	AAC PHOENIX
*	AAC SANTA BARBARA
	*	A/K/A	CHURCH OF THE NEW CIVILIZATION
*	AAC TOULOUSE
*	AAC TUCSON
	*	A/K/A	CHURCH OF NEW LIFE
	AAC VIENNA
	AAC VOLPAGO
	ABILITY CENTERS:
*	AC BASEL
*	AC PALO ALTO
* 	AC SAN DIEGO
* 	AC SEATTLE
	AC VIENNA
		A/K/A	INSTITUTE FOR APPLIED COMMUNICATION
		A/K/A	WINNINGS ADVANCED MANAGEMENT TECHNOLOGY
		A/K/A	INSTITUTE FOR ANGEWANDTE KOMMUNIKATION
	AC ZURICH
	ADVANCED BUSINESS CONCEPTS
*	ADVANCED COUNSELING SERVICES, INCORPORATED
	*	A/K/A	CHURCH OF SPIRITUAL ENLIGHTENMENT
*	ADVANCED MIND DYNAMICS
	*	A/K/A	THEE AND THE LIGHT CENTER
	*	A/K/A	AAC MILWAUKEE
*	ADVANCED PERCEPTIONS
	*	A/K/A	INSTITUTE OF ADVANCED PERCEPTION
	ADVANCEMENT OF HUMAN POTENTIAL
*	ALPHA AWARENESS
*	ALPHA DYNAMICS INSTITUTE, INCORPORATED
*	AMERICAN COLLEGE PROPRIETARY LIMITED
*	AMPRINSTICS
*	ANDERSON RESEARCH FOUNDATION, INCORPORATED
		A/K/A	ANDERSON RESEARCH CENTER
	ANN ARBOR
	ANUBNAVA SCHOOL OF ENLIGHTENMENT
	APFELBAUM - VERLAGES
	APFELBAUMSCHULE
		A/K/A	APPLE TREE SCHOOL
	APPLIED PHILOSOPHY
	ARC ASSOCIATES LIMITED
	ARC INTERNATIONAL LIMITED
	ASSOCIATION INTERNATIONAL FOR DIANOLOGISTS
*	ASSOCIATION OF INTERNATIONAL DIANOLOGISTS
*	ASSOCIATION FOR STUDY AND KNOWLEDGE
	ASSOCIATION OF PROFESSIONAL CLEARING CONSULTANTS
	ATC COMO
	AVATAR
	AWARENESS
	AWARENESS REHABILITATION CENTER SEATTLE
*	AYUDA
---------------------------------------------------------------
*	BASIC AGREEMENTS
*		A/K/A	SELF DISCOVERY:  THE BASIC AGREEMENTS
*	BALANCED DETERMINISM
*	BERKELEY PSYCHIC INSTITUTE
*		A/K/A	CHURCH OF THE DIVINE MAN
*	BIOENERGETICS
*	BIOFEEDBACK CLEARING
	BREAKTHROUGH FOUNDATION
*	BRILLING WORKS
	BTC
---------------------------------------------------------------
	CALIFORNIA ASSOCIATION OF DIANETIC AUDITORS (CADA)
		A/K/A	DIANETIC CENTER HOLLYWOOD
		A/K/A	HOLLYWOOD DIANETICS
		A/K/A	HUBBARD DIANETIC CONTROL CENTER
		A/K/A	INTERNATIONAL DIANETIC SOCIETY, INCORPORATED
*	CALIFORNIA DIANETIC FOUNDATION
*	CASTALIA FOUNDATION
*	CATHOLIC APOSTOLIC CHURCH MONASTERY
*	CAUSE EFFECT HEALTH REFUGE
*		A/K/A	CAUSOLOGY
	CENTER FOR ADVANCEMENT OF HUMAN POTENTIAL
		A/K/A	CHURCH OF SCIOLOGOS
		A/K/A	CHURCH OF HUMAN POTENTIAL
		A/K/A	CHURCH OF HUMAN EVALUATION
		A/K/A	HUMAN POTENTIAL CENTER
	CENTER FOR APPLIED METAPSYCHOLOGY
		A/K/A	INSTITUTE FOR RESEARCH IN METAPSYCHOLOGY
	CENTER FOR CREATIVE LEARNING
	CENTER FOR ESOTERIC PSYCHOLOGY, THE
		A/K/A	ESOTERIC RESEARCH FOUNDATION
		A/K/A	CENTER FOR ESOTERIC STUDIES
		A/K/A	ESOTERIC RESEARCH AND EDUCATION FOUNDATION
		A/K/A	THE CHURCH OF UNIVERSAL RELIGIONS, INCORPORATED
*	CENTER FOR HIGHER AWARENESS
*	CENTER FOR PERSONAL ACHIEVEMENT
	CENTER FOR PERSONAL EFFICIENCY
*	CENTER FOR PERSONAL ENHANCEMENT
*	CENTER FOR PERSONAL EXCELLENCE
*	CENTER FOR REALIZATION OF CREATIVE POTENTIAL
*		A/K/A	REALIZATION CENTER
	CENTER FOR SPIRITUAL AWARENESS
	CENTER OF ADVANCED BUSINESS CONCEPTS
		A/K/A	PARADIGM TECHNOLOGIES
*	CENTRO ITALIANO DI METODOLOGIA DI STUDIO (CIMS)
		TRANSLATES TO ITALIAN CENTER OF STUDY METHOD
*	CHICAGO DIANETIC RESEARCH FOUNDATION
	CHRISTIAN SPIRITUAL ALLIANCE
		A/K/A 	CENTER FOR SPIRITUAL AWARENESS
*	CHURCH FOR ALL FAITHS
	CHURCH FOR PERSONAL ACHIEVEMENT
*	CHURCH FOR SPIRITUAL ADVANCEMENT
*	CHURCH FOR UNITY
	CHURCH OF ABILITY
*	CHURCH OF COSMOLOGY, ONTOLOGY, METAPHYSICS
*		A/K/A	CHURCH OF SPIRITUAL ARTS
*		A/K/A	HUNA RESEARCH ASSOCIATION
	CHURCH OF HUMAN EVALUATION
	CHURCH OF HUMAN POTENTIAL
	CHURCH OF JESUS CHRIST IN ZION
*	CHURCH OF MANY MANSIONS
*	CHURCH OF NEW LIFE
	CHURCH OF NUTRITIONAL SCIENCE
	CHURCH OF SCIOLOGOS
		A/K/A	PERSONAL EFFICIENCY CENTER
		A/K/A	THE LIFE AND ARTS CENTER
*	CHURCH OF SEVEN ARROWS
*	CHURCH OF SPIRITUAL ARTS
*		A/K/A	CHURCH OF COSMOLOGY, ONTOLOGY, METAPHYSICS
	CHURCH OF SPIRITUAL AWARENESS
		A/K/A	CENTER FOR SPIRITUAL AWARENESS
		A/K/A	SPIRITUAL HOLISTIC EDUCATION FOUNDATION
*	CHURCH OF SPIRITUAL ENLIGHTENMENT
*		A/K/A	ADVANCED COUNSELING SERVICES, INCORPORATED
*	CHURCH OF SPIRITUAL FREEDOM
*	CHURCH OF THE AWAKENING
*	CHURCH OF THE DIVINE MAN
*	CHURCH OF THE DIVINE WISDOM
	CHURCH OF THE FINAL JUDGMENT
	CHURCH OF THE NEW CIVILIZATION
*	CHURCH OF THE NEW CLEAR UNIVERSE
*	CHURCH OF TRUTH
	CHURCH OF UNIVERSAL RELIGIONS, INCORPORATED
	CHURCH OF UNIVERSAL TRUTH
*	CLEAR CENTER
*		A/K/A	CENTER FOR PERSONAL EXCELLENCE
	CLEAN CENTER OF ANN ARBOR
*	CLEAR CENTER OF BOSTON
*	CLEAR CENTER SUNDERLAND
*		A/K/A	INDEPENDENT SCIENTOLOGISTS IN SUNDERLAND
*		A/K/A	ISIS
	CLEAR GALAXY
*	CLEAR MIND MISSION
*	CLEARING
*		A/K/A	CLEARING CIRCLE
	CLEARING CENTER
*	CLEARING CONSULTANTS GROUP
*	CLEARING HOUSE
	CLEARING PLUS
	CLEARLIFE
*	CLEARATION
*	CO-COUNSELING
*	CONCEPTOLOGY
*	CONCEPT THERAPY
	COONEY AND CALDWELL
*	COSMIC JOY FELLOWSHIP
* 	CREATIVE CONSCIOUSNESS
	CREATIVE LEARNING CENTER
		A/K/A	SCIENTOLOGY ELMIRA
		A/K/A	FREE ZONE SCIENTOLOGY
*	CREATIVE REALIZATION CENTER
*	CREATIVITY UNLIMITED
*		A/K/A	CREATIVITY
*	CROSSOVER GROUP
---------------------------------------------------------------
*	DEMAYA
	DIANASIS
*	DIANETIC CENTER HOLLYWOOD
*		A/K/A	HOLLYWOOD DIANETICS
	DIANETIC TRADERS
*	DIANOLOGY
*		A/K/A	EDUCTIVISM
*		A/K/A	REFORM CHURCH OF SCIENTOLOGY
*		A/K/A	CHURCH OF SPIRITUAL FREEDOM
*		A/K/A	ASSOCIATION OF INTERNATIONAL DIANOLOGISTS
*		A/K/A	INTERNATIONAL AWARENESS CENTER
*		A/K/A	PERSONAL CREATIVE FREEDOM FOUNDATION
*		A/K/A	CREATIVE FREEDOM FOUNDATION
*		A/K/A	CHURCH OF EDUCTIVISM
---------------------------------------------------------------
*	EARTHPLAY
	EAST DAY FOUNDATION
		A/K/A	EAST DAY NETWORK
	ECKANKAR
*	EDUCTIVISM
*		A/K/A	DIANOLOGY
*	ELITE SERVICES ORGANIZATION (ESO)
*	ELMIRA
*	E-METER THERAPY
*	ENLIGHTENMENT INTENSIVES
*	ESSENCE OF LIFE
	ESOTERIC RESEARCH AND EDUCATION FOUNDATION
		A/K/A 	CENTER FOR ESOTERIC PSYCHOLOGY, THE
	ESOTERIC RESEARCH FOUNDATION
		A/K/A	CENTER FOR ESOTERIC PSYCHOLOGY, THE
	EST (ERHARD SEMINAR TRAINING)
	EST PHOENIX AREA CENTER
	EST LOS ANGELES AREA CENTER
	EST NEWPORT BEACH AREA CENTER
	EST SACRAMENTO AREA CENTER
	EST SAN DIEGO AREA CENTER
	EST SAN FRANCISCO AREA CENTER
	EST SAN JOSE AREA CENTER
	EST DENVER AREA CENTER
	EST CONNECTICUT AREA CENTER
	EST WASHINGTON DC AREA CENTER
	EST MIAMI AREA CENTER
	EST SARASOTA AREA CENTER
	EST TAMPA AREA CENTER
	EST ATLANTA AREA CENTER
	EST HAWAII AREA CENTER
	EST CHICAGO AREA CENTER
	EST NEW ORLEANS AREA CENTER
	EST BOSTON AREA CENTER
	EST DETROIT AREA CENTER
	EST MINNEAPOLIS / ST. PAUL AREA CENTER
	EST NEW JERSEY AREA CENTER
	EST ALBUQUERQUE AREA CENTER
	EST NEW YORK AREA CENTER
	EST CHARLOTTE AREA CENTER
	EST CINCINNATI AREA CENTER
	EST CLEVELAND AREA CENTER
	EST PORTLAND AREA CENTER
	EST PHILADELPHIA AREA CENTER
	EST PITTSBURGH AREA CENTER
	EST DALLAS AREA CENTER
	EST HOUSTON AREA CENTER
	EST SEATTLE AREA CENTER
	EST WEST COAST SITE (SANTA ROSA, CALIFORNIA)
*	EUMENTICS
*	EXCALIBUR
*	EXEGESIS
---------------------------------------------------------------
*	FAST CLEARING
*	FELLOWSHIP OF CLEAR LIGHT
*	FELLOWSHIP OF CLEARING CONSULTANTS
*	FIELD, THE
*	FIELD GROUP, THE
	FORENINGEN FOR ANVENDT FILOSOFI
		A/K/A	ASSOCIATION FOR APPLIED PHILOSOPHY
*	FORENINGER FOR TILLAEMPAD FILOSOFI
		A/K/A	ASSOCIATION FOR TELEPATHIC PHILOSOPHY
	FORUM, THE
	FOUNDATION OF ADVANCED ABILITIES
*	FOUNDATION CHURCH OF THE MILLENIUM, THE
	FREE ZONE SCIENTOLOGY
		A/K/A	CREATIVE LEARNING CENTER
*	FRIENDS OF THE FIRST AMENDMENT
---------------------------------------------------------------
*	GALACTIC PATROL
*	GENERAL PSYCHIC
	GESTALT INSTITUTE
*	GREEN CLUB
	GROWING OLDER, INCORPORATED
---------------------------------------------------------------
	HARMONISTICS
*	HARMONY WORKSHOP
*	HARTFORD CENTER
*	HEALTH AND ABILITY CENTER BRIGHTON
	HERMANET
	HIGHSTONE INTERVIEWS
	HOLISTIC CENTER FOR HIGHER AWARENESS
	HOLLYWOOD DIANETICS
		A/K/A	CALIFORNIA ASSOCIATION OF DIANETIC AUDITORS

	(CADA)
*	HOLY ORDER OF MANS
*	HONEY DROP FOUNDATION
*	HUB, THE
	HUBBARD DIANETIC CONTROL CENTER
		A/K/A	HOLLYWOOD DIANETICS
*	HUMAN INSIGHT GROUP
	HUMAN POTENTIAL CENTER
*	HUMAN POTENTIAL MOVEMENT
*	HUNA RESEARCH ASSOCIATES
	HUNGER PROJECT, THE
---------------------------------------------------------------
	I AM
	IF
*	IMPROVEMENT GAME, THE
*	INDEPENDENT LEGAL FUND
*	INDEPENDENT RELIGIOUS SERVICE ASSOCIATION, THE
*	INDEPENDENT SCIENTOLOGISTS IN SUNDERLAND
*		A/K/A	CLEAR CENTER SUNDERLAND
	INDEPENDENTS SFO
	INNER SPACE CENTER
*	INSIGHT DYNAMICS
	INSTITUT FUR ANGENWANDTE KOMMUNIKATION
		A/K/A	ABILITY CENTER VIENNA
*	INSTITUT FUR BEWISSTSEINS FORSCHUNG
*		A/K/A	INSTITUTE FOR MENTAL RESEARCH
	INSTITUTE FOR APPLIED COMMUNICATION
		A/K/A	ABILITY CENTER VIENNA
*	INSTITUTE FOR THE DEVELOPMENT OF THE HARMONIOUS HUMAN BEINGS
*	INSTITUTE FOR PERSONAL EXCELLENCE
*	INSTITUTE FOR PERSONNEL ENHANCEMENT
	INSTITUTE FOR RESEARCH IN METAPSYCHOLOGY
	INSTITUTE OF ABILITY
	INSTITUTE OF ACTUALIZATION
*	INSTITUTE OF ADVANCED PERCEPTION
*	INSTITUTE OF APPLIED TECHNOLOGY
	INSTITUTE OF HUMAN ABILITIES
		A/K/A	MOREHOUSE
		A/K/A	TURN ON TO AMERICA
*	INSTITUTE OF PSYCHOLOGY AND PARAPSYCHOLOGY
*	INTERNATIONAL AWARENESS CENTER
	INTERNATIONAL COMMUNICATION NETWORK
	INTERNATIONAL DIANETIC SOCIETY, INCORPORATED
		A/K/A	HOLLYWOOD DIANETICS
	INTERNATIONAL SOCIETY OF INDEPENDENTS
	INTROSPECTIVE TECHNOLOGY SERVICES
	INTUITOLOGY
	ISM OF AM
---------------------------------------------------------------
	KRIPALU SCHOOL OF SAHAJ YOG
	KENJA
		A/K/A	KENJA PERSONAL ABILITY CENTRE AND PERSONAL

			EVOLVEMENT CENTRE
---------------------------------------------------------------
*	LEAGUE FOR SPIRITUAL DISCOVERY
*	LIFE AID
	LIFE ARTS CENTER
		A/K/A	CHURCH OF SCIOLOGOS
		A/K/A	CENTER FOR ADVANCEMENT OF HUMAN POTENTIAL
*	LIFE DYNAMICS
	LIFE MANAGEMENT TRAINING CENTER
*	LIFE REPAIR
	LIFESPRING
	LIFE TECH, INCORPORATED
		A/K/A	LIFE TEK
*	LIVING LOVE CENTER
	LONDON INDEPENDENT AUDITORS NETWORK
---------------------------------------------------------------
*	M-TECH
*	MAJKEH, LILLIAN AND COMPANY
*	MENTAT SCHOOL INCORPORATED, THE
*	METCALF GROUP
*	MIAMI ABILITY CENTER
*		A/K/A CHURCH OF SPIRITUAL ADVANCEMENT
	MIND CLEARING
	MIND DYNAMICS
	MIND EXPANSION
*	MIND SCANNING
*	MIND SPA, THE
	MOREHOUSE
	MOTIVATIONS BERATUNG SCHNITIELER
		A/K/A	ORGANIZATION MOTIVATION CENTER
*	MUNA
---------------------------------------------------------------
*	NATURAL LEARNING CENTER
	NATURALISM
*	NEW PRINCIPLES
*	NEXUS NEW AGE CIVILIZATION CENTER
*	NIMBIN OVERSPACE FELLOWSHIP
*	NORMANOLOGY
*		A/K/A	POWER
	NOUVEAU MIND CENTER
	NOW SALES TRAINING
---------------------------------------------------------------
*	OMEGA TRAINING
*		A/K/A	OMEGA CONSULTANT TRAINING
*		A/K/A	OMEGA CLEARING
*	ONTOLOGY
*		A/K/A	UNIVERSAL INSTITUTE OF APPLIED ONTOLOGY
	OPERATION SAFESPACE
	ORGANIZATION MOTIVATION CENTER
	ORIENTOLOGY
*	O. T. ASSOCIATES
*	OT CENTRAL COMMITTEE WORLD WIDE
---------------------------------------------------------------
*	PACE PROGRAM
	PALO ALTO ABILITY CENTER
	PARADIGM TECHNOLOGIES
		A/K/A	CENTER OF ADVANCED BUSINESS CONCEPTS
	PERSONAL ACTUALISATION TRAINING (PAT)
	PERSONAL COUNSELORS, INCORPORATED
	PERSONAL CREATIVE FOUNDATION
*	PERSONAL CREATIVE FREEDOM FOUNDATION
*	PERSONAL DEVELOPMENT TRAINING
	PERSONAL EFFICIENCY CENTER
	PERSONAL POWER AND TRAINING CENTER
*	PERSONAL INTEGRATION THERAPY
*	PHILBERT
*	POSSUM PROCESS
*	POWER
*		A/K/A	NORMANOLOGY
*	POWER PROCESSING
	POWER LEADERSHIP INTERNATIONAL
*	PRIMAL SCREAM
*		A/K/A	PRIMAL THERAPY
	PRIMAL FEELING CENTER OF NEW ENGLAND
	PROCESS, THE
		A/K/A	PROCESS CHURCH OF THE FINAL JUDGMENT
*	PROCESS CHURCH
*	PROJECT SAFESPACE
*		A/K/A	SAFESPACE
	PROMETEO GROUP
*	PROSPEROS, THE
*	PROSPEROUS INNER SPACE CENTER
*	PSI-WORLD
*	PSYCHIC SPIRITUAL ADVANCEMENT
---------------------------------------------------------------
*	RANDOMITY
*	READING RESEARCH COUNCIL
*	REALIZATION CENTER
*		A/K/A	CENTER FOR REALIZATION OF CREATIVE POTENTIAL
	RE-EVALUATION COUNSELLING APPLIED PHILOSOPHY
*	REFORM CHURCH OF SCIENTOLOGY
*		A/K/A	DIANOLOGY
*	REFORMED CHURCH OF SAN DIEGO
*	REFORM CHURCH OF SCIENTOLOGY
*	RE-INCARNATION COUNSELLING
*	REVITALIZATION CENTER
*	RUSSELL SCOTT CLEARING
---------------------------------------------------------------
*	SAFESPACE
*		A/K/A	SAFESPACE FOUNDATION
*		A/K/A	PROJECT SAFESPACE
*	SAGE
	SAHAJ YOG
*	ST. ETIENNE AND CLERMONT FERRAND GROUP
	SANATANA DHARMA FOUNDATION
*	SCHOOL OF ATHOLOGY
*	SCHOOL OF SACRED SCIENCE
	SCIENCE OF THOUGHT
*	SCIENTOLOGY ELMIRA
		A/K/A	CREATIVE LEARNING CENTER
	SEDONA INSTITUTE
*	SEEKERS AFTER TRUTH
*	SELF DETERMINISM SERVICES
*	SELF DISCOVERY:  THE BASIC AGREEMENT
*	SELF EXPERIENCE AUDITING
*	SELF PURSUIT
*	SELF REALIZATION
	SELF-REALIZATION FELLOWSHIP (SRF)
	SELF TRANSFORMATION
*	SHAKTI
	SHAKTI-PAT
*	SILINGLER SCHNITZLER
*	SOUTH-WEST LONDON CENTRE
	SPIRITUAL AWARENESS CENTER
*	SPIRITUAL ECOLOGY
*	SPIRITUAL ENERGY
	SPIRITUAL HOLISTIC EDUCATION FOUNDATION
*	STELLE BROTHERHOOD
*	STEVE HURO AND ASSOCIATES
*	STILLE INFORMATION CENTER
	SUN INSTITUTE
		A/K/A	SUN SEMINARS
	SURVIVAL SERVICES INTERNATIONAL
	SYNERGETICS SOCIETY
		A/K/A	SYNERGETICS
		A/K/A	SYNERGOS PSI
	SYNERGY
---------------------------------------------------------------
*	TAGOSHI
	TAKE COMMAND
*	TECH-MATERIAL-SERVICE
*	THEE AND THE LIGHT CENTER
*	THETA CLEARING
*	THETA COMMUNICATIONS
*	THETA INTERNATIONAL
*	THETA SEATTLE
*	TOGETHER TRAINING
	TOTALITY
*	TRAINING OF NEW MEXICO
*	TRANSCENDENTAL DIANETIC
*	TRICHOTONY
*	TRINITOLOGY
*	TRIOLOGY
	TURN ON TO AMERICA
		A/K/A	INSTITUTE OF HUMAN ABILITIES
---------------------------------------------------------------
*	UNIVERSAL CHURCH OF ETERNAL PHETAN
*	UNIVERSAL INSTITUTE OF APPLIED ONTOLOGY
*		A/K/A	ONTOLOGY
---------------------------------------------------------------
*	VACUUM CLEANING PROCEDURE
*	VICTORIAL COLLEGE OF ESOTERIC STUDIES
*	VIPERS
---------------------------------------------------------------
*	WERASTATT FUR HOLISTICHES LEBEN
	WERNER ERHART AND ASSOCIATES
*	WHOLE TRACK DESIGNS
	WINNINGS ADVANCED MANAGEMENT TECHNOLOGY
		A/K/A	ABILITY CENTER VIENNA
*	WISDOM SCHOOL
*	WORLD SOCIETY FOR EVERYMAN'S FREEDOM
*	WUD-SHA-LO
---------------------------------------------------------------
*	YES
*	YMI
---------------------------------------------------------------
	ZENITH APPLIED PHILOSOPHY (ZAP)
---------------------------------------------------------------

DECLARED SUPPRESSIVE PERSONS:

AARON, DAVID
ABEEL SUSAN
ABEGG, BERNADETTE
ABEGG, PAUL
ABELING, DINO
ABERG, VALLE
ACOSTA, MICHAEL D.
ACS, GABE
ACS, KENNY
ADAIR, JANE GEORGINA
ADAMI, VITO
ADAMS, BRENDA
ADAMS, CHUCK
ADAMS, GERALD
ADAMS, KARIN
ADAMS, MARY LUELLA
ADAMS, NICK
ADAMS, RODNEY
ADCOCK, AL
ADELSTEIN, LYNN
ADEN, DAVID (MARTIN)
ADLER, BARRY
AFGHANI, USOMA
AHMED, HAMID
AILLS, RITA
AKESSON, KAJ
AKESSON, LENA
AKITA, ANGEL RAMIREZ
ALACK, JOHN
ALBA, RENE
ALBACH, BARBARA
ALBACH, JANELL
ALBACARA, JAIME
ALBER, ERWIN
ALDER, VIRGINIA
ALDRICH, CYNTHIA
ALEXANDER, GERALD
ALEXANDER, JOHN
ALEXANDER, PAUL
ALLA, MIKE
ALLARD, JOHN
ALLEMAN, BRIAN
ALLEMAN, JAN
ALLEMAN, STEVE
ALLEN, CHRISTOPHER
ALLEN, DON
ALLEN, JIM
ALLEN, MARCUS
ALLEN, NETTA
ALLEN, PAT
ALLEN, TIM
ALLEVI, LIDIA
ALLMARAS, LINDA
ALLOI, ROGER
ALMARAZ, DAVE
ALMBLAD, ROBERT
ALPEN, CINDY
ALPIN, MICK
ALPIN, VAL
ALVAREZ, ALEJANDRO
ALVAREZ, GEORGE
ALVAREZ, JOSE
ALVES, JOELLE
ANDALUS, ALFREDO
ANDERSON, BORJE
ANDERSON, EDYTHE
ANDERSON, JAMES
ANDERSON, KIM
ANDERSON, MARILYN
ANDERSON, PAUL
ANDERSSON, MONIKA
ANDRAE, RANDALL
ANDREU, GEORGES
ANDREWS ROBYN (LAVEGLIA)
ANDRUS, ALISON LOUISE
ANSTRIN, LISA
ARGUE, MIKE
ARIANA, MARIO
ARMISTEAD, TOM
ARMSTRONG, GERRY
ARMSTRONG, MIKE
ARMSTRONG, SUE
ARNOLD, PETER
ARNOLD, SHELLY
ASKEW, CARL
ASKEW, MORGAN
ATACK, JON
AU, AMY
AUERBACH, CASS
AUERBACH, DAN
AUSLEY, JOHN
AVALLE, ANGELA
AXLEBY, RODNEY
AZARES, BECKY
AZNARAN, RICK
AZNARAN, VICKI
---------------------------------------------------------------
BAABAA, MAHFOUD
BAABAA, ANNA
BABENDREIER, BOB
BACKERMAN, STEVEN RAMSEY
BACON, ART
BADE, JOHN
BATH, CHRIS
BAGLEY, KATHY
BAILEY, MIKE
BAILEY, TURC
BAKER, MARK
BAKER, NEIL
BALDIZON, GERMAN DANIEL
BALLARD, ERIC
BAMIRO, ADENIYI
BANGERT, BAMIRO MITCH
BANKSTON, PEGGY
BARAKAT, TERRY
BARBARO, PAUL
BARBEN, ERIC
BARBEN, MARIA
BARBER, DAN
BARBER, GLEN
BARBERO, ENRICA
BARBIER, JEAN LUC
BARBOSA, DAVID
BAREA, IDA
BANGER, DALE
BARKER, BRIAN
BARNES, GARY
BARNETT, SUE
BARNEY, CARL
BARRON, DAVID
BARROW, CYRIL
BARRY, KIM
BARTON, JACK
BARTON, NOEL
BASSETTO, ELIO
BATH, DAVID
BATTAGLIA, DOUG RALPH
BAUDAR, CATHERINE (McCLURE)
BAUGH, WEBB
BAUMGARTEN, LISA
BAY-JESPERSEN, KAI
BAY-JESPERSEN, VICKY
BEALE, DAVID
BEALS, SUZANNE
BEAULIEU, DIANE
BEAUMONT, STEVE
BECHIS, ERIC
BECK, CRHIS
BECK, YVONNE
BELL, JULIAN
BELLARDI,. CRISTINA
BELLAMAINE, HORAG
BELLOTTI, VINCENZO
BELTRAN, RUBEN
BENGTSSON, KARY
BENNETT, LISA
BENSON, RICK
BENSON, RONLYN ANNE
BENTLEY, HAROLD
BENTLEY, MARGARET
BENTZ, ORLANDO
BERGERON, GHISLAINE M.
BERNARD, DOMINIQUE M.
BERNARD, HELENA
BERNDTSSON, BARBRO
BERRY, BRITA
BERTINATO, GINA
BERTOJA, ELISABETH
BESKE, CINDY
BETTENDORF, DANIEL JOHN
BHARGAV, SUNAS
BIDSTRUP-LARSEN, FRANK
BILLINGS, SHIRLEY
BINDA, DJ
BINDA, MIKE TERRANCE
BISBY, STEVE
BISHOP, BONNY
BISHOP, BRUCE
BLACKWOOD, DAVID
BLANCHET, MANON
BLOCK, TERRY
BLUM, PETER
BOCK, SHELLY
BODINER, FRANCOIS
BOEHM, ESTHER
BOLDEN, SHERRY ANN
BOLINGER, TRUMAN
BOLTON, LEN
BOMMEL, SANDRA (RETI)
BONCHER, CLARENCE
BOND, IRENE
BONFANTI, FABIO
BONNAFOUS, MADELINE
BONNING, HEATHER
BONO, MARTY
BORDEN, SUSAN
BORGLIN, CHRIS
BORRE, MAIKEN
BORTHWICK, GWYNNE
BORTHWICK, JOHN
BOSS, RICK
BOSTROM, JOHN
BOSWAVA, ROGER
BOTHA, MARTIN
BOTTAN, GRAZIANO
BOTTARO, RENATA
BOU, FERNANDO SALA
BOCK, NIKI
BOUDERBA, MOHAMED
BOULDING, RORY
BOULDING, SHERRY
BOULTON, SUE
BOURGOIN, ANN ELLA
BOURGOIN, GUY CAMIL
BOUSAMZAR, JULIE
BOVA, ADELINE
BOVA, FRED
BOW, BILL
BOWERS, JIM
BOWERS, NANCY (HEARST KUGLER)
BOX, RALPH
BOYD, JEANNINE ANN
BOYER, JOHN
BOYER, LETA
BRADLEY, JOHN
BRADY, KEVIN GRANT
BRAGG, DARYL
BRAND, CARLA
BRANDENBURG, JEFF
BRANDES, CINDY
BRANDES, RICHARD
BREKKE, RON
BRICARD, MARIE CHRISTINE
BROD, TRACY
BRODIE, DANIELLE
BRODIE, DUNCAN
BRODIE, JILL
BROWN, CHRIS
BROWN, GAIL (GERBO)
BROWN, SCOTT
BROWNFELD, JOE
BRUNEAU, DANIEL
BRUNELE, PAM
BRUSCHI, BRUNELLA
BRUZZONE, MAURIZIO
BURKE, KEN
BUCCHI, GIACOMO
BUCHANAN, ALAN
BUCHANAN, EILEEN
BUCHANAN, SCOTT EVERETT
BUCHHEIM, BRAD
BUCKLES, CATHY
BUDD, SANDRA (BARNSLEY)
BURCH, DEBBIE
BURDEN, TONYA
BURDICK, GEORGE
BUREY, NICK
BURGESS, HELEN
BURK, LARRY DON
BURKE, GRETCHEN
BURNE, CHRIS
BURNETT, CARYL
BURNETT, RICHARD
BURROUGHS, EVA
BURROWES, SARAH
BURWELL, LYLE
BUSHLING, TINA
BUSHMAN, ED
BUSS, ANNIE (ELLIOT)
BUTLER, BILL
BUTLER, HAROLD
BYIJIE, CHRIS
BYRNES, JANE
---------------------------------------------------------------
CADON, JOHN PAUL
CAGLE, DEBBIE
CALDAGNETTO, SABINA
CALDWELL, BRUCE
CALDWELL, NICKI
CALLEGARINI, FAUSTO
CALVO, SYLVIE
CAMAS, CLAUDIA
CAMAS, WALTER
CANUTI, GIANNI
CAPONALE, FRANK
CAPUTO, PIERO
CAPUTO, RICARDO
CARAZO, FERNANDO
CARIOTAKI, CATHY
CARLISLE, CRICKET
CARLSEN, CARL
CARLSEN, HOLLY
CARMONA, HECTOR
CARNEY, SHERI
CARNRITE, DAN
CARRARA, ROBERT
CARRIERE, CHANTAL
CARRIERE, FRANCOIS
CARTER, TERI
CASE, AMY
CASILLAS, ED
CASSAN, CHANTAL
CASSISA, PETER MARTIN
CASTILLO, ALEX
CASTILLO, MAUDE
CATANO, MIGUEL
CATANO, MIGUEL ALFONSO
CATHIE, ANGUS
CAUFIELD, JOE
CALUKINS, STEVE
CEBALLOS, ALVARO
CENEDELLA, LUIGI
CERNIGOI, SILVANO
CHADSEY, TERRY
CHAMAL, JESSE
CHALEFF, IRA
CHALMOT, NICOLE
CHAMBERLAIN, NEVILLE
CHAMBERS, BRETT
CHARLEDOIS, CHANG MARGIE
CHARLETON, PAM
CHASE, BERT
CHAUVET, JENNY
CHAVARRIA, JAVIER
CHAVARRIA, JOSE SALVADOR
CHAVARRIA, THERESE
CHEN, MURIEL
CHENIER, ED
CHERVIN, MARC
CHESNEY, CAROL
CHICLACOS, CHIC
CHIECO, MICHELE
CHILDS, PETER
CHRISTENSEN, HELEN
CHRISTOPHER, DAVE
CHRISTOPHERSON, JULIE
CISNEROS, MARIO
CLARK, CLARA
CLARK, FRANKIE
CLARK, KELI
CLARK, LOTTA
CLEARY, JIM
CLEMENTE, ISABELLE
CLIFFORD, SCOTT
COBURN, CAROL
COE, GURRY N.
COESSER, KEITH
COHEN, PAULETTE
COHEN, SHELLY
COHEN, VIRGINIA
COLEMAN, RICHARD
COLL, CONCHITA
COLLINS, JIM
COLOMBO, LUIGI
COLOSIMO, CARLO
CONAGHAN, MATTHEW JAMES
CONDRON, RON
CONNOR, DOUG
CONNORS, NOEL
CONRAD, LINDA
CONTRERAS, TERESA
CONWAY, JILL
COOK, GORDON
COOK, YVONNE
COONS, MARC
COOPER, DARYL
COOPMAN, GEORGE
CORDES, CHRIS
CORDOVA, CARLOS
CORTEZ, DAVID
CORYDON, BENT
CORYDON, MARY
COSTA, MONICA
COULTER, KEITH L.
COULTER, RITA DIANE
COVELL, JOHN
COVELL, SANDY
CRAGGS, DEREK
CRAMMER, LINDA
CRAMMER,TED
CREAMER, CECILIA
CREAMER, NEIL
CREEGAN, DANIEL
CRISTIAN, GUNTHER
CRITTENDON, CLAIRE
CRIVELLO, AL
CROSIGNANI, ALBERTO
CROSIGNANI, PAOLA
CROSSMAN, ELIZABETH
CROW, SCOTT
CROWDER, ROBERT
CROWIE, HARVEY
CROWIE, JASANNA
CRUNDALL, MARTIN
CRUZ, JESUS
CUDISOL, JEAN NOEL
CURL, GERRIE
CURREN, TERENCE
CURREN, TERRANCE
CUSWORTH, DAVID
CZAINZINGER, LEO
---------------------------------------------------------------
D'AGUELLI, GIANNI
D'AMATO, UGO
D'AMICO, TONY
D'AUBREY, DOUG
DABLIN, ANN MAI
DAGNEAU, MARC
DAILY, MICHAEL J.
DAL PRA, GABRIELLA
DALE, ROD
DALTON, JIM
DAN, DAFNA (ROBERTSON)
DANA, MICHELLE
DANIELE, RAGGI
DANIELS, EBO
DAMMAN, TOD
DANTES, VERO
DARE, BERNARD
DARE, CHRIS
DA ROCHA, EDWARD (EDDIE)
DAROESMAN, PEGGY
DAROSS, MARY
DASQUET, JULIA (DARCONDO)
DAVEY, ROD
DAVIDSON, DELWYN
DAVIDSON, MIKE
DAVIES, CHRISTOPHER L.
DAVIES, DR. STEPHEN
DAVIS, ALICE
DAVIS, BRENA
DAVIS, CARMIT
DAVIS, CHRIS
DAVIS, DEB
DAVIS, JEFF
DAVIS, NICK STEPHEN
DAVIS, RON
DAVIS, RON DELL
DAVIS, RUAE
DAVIS, STEPHEN
DAWSON, PETER
DE ARMAN, RONNEY
DE ARMOND, RICHARD
DE BRABANDERE, PHILIPPE
DE FRETAS, MADELINE
DE GRASSI, ALESSANDRO
DE GROOT, LUIS
DE JONG, BAUKJE
DE LUCHI, UGO
DE MARCHIA, ANTONELLA
DE MARCO, GIANCARLO
DE PETIGNY, BERTRAND
DE PETIGNY, MARIE THERESE
DE ROSA, DEBBIE
DE VITI, MARIA
DEAN, ATHENA
DEAN, CHUCK
DEARING, MICHAEL
DECARLE, BILL
DECHEFF, CHERYL
DECHEFF, GENE
DEITSCH, BILL
DELAUNAY, BRUNO
DELAY, ERIN
DELIA, MIKE
DELLOLIO, MICHELE
DENNING, KELLEN
DENNISON, MELISSA
DENNISON, REGINA
DENNISON, TERRY
DERENZO, OM
DESERRES, HELENE
DESHAIS, CLAUDINE
DEUTSCHER, SUE
DEXTER, DIANA
DESELLE, ROCKY
DIANA, ENID
DIANNE, CLAUDE GUY
DICK, BRUCE
DICKMAN, DOUG
DISCKSON, WOODY
DIEBACHER, HANS
DIEDRICHSEN, BENT
DILECCE, FRANCESCO
DILLEY, JOE
DINCALCI, JIM
DINCALCI, NANCY
DOBSON, MARK
DOERGES, DAVE
DOHERTY, BETTY
DOHERTY, ELIZABETH FREW
DOMKE, DOUG
DONALD, SAM
DONOVAN, MOIRA
DOUGHERTY, PAMELA
DOUGLAS, KIMA
DOWNES, BRENDA
DOWNSBOROUGH, VIRGINIA
DREHER, MARION K.
DRENNEN, LORETTA
DRUMMOND, RON
DOBOIS, BERNIE (GUY)
DUBREIL, JEAN-PAUL
DUFOUR, TOM
DULZ, JOHN
DUMAS, FRANCOIS
DUMSICK, CHRIS (LARSON)
DUNCAN, MALCOM
DUNCAN, SYLVIA
DUNK, CHRIS
DUNLOP, DAVID
DUNN, AMY
DUNN, LARRY
DUNSTAN, MICHELE
DURNBERGER, MARGIT ADELE
DUTOIT, JUNE
DUTTON, MARK
DYER, JEANNE
DYERS, KEN
DYKEMA, EDWIN R.
---------------------------------------------------------------
EADE, DON
EARLE, GARY
EASTMAN, BARBARA
EASTMAN, MIKE
EDEN, TERRI
EDKINS, JACK
EDLER, RICH
EDMUNDSON, ANDREA
EDWARDS, JACKIE
EDWARDS, KEN
EGGER, PATRICIA
EIFLANDER, BERND
EISENRING, ALOIS JOSEPH
EISENRING, KATHERIN
EK, CURT
ELDER, RICHARD
ELGARDT, DOROTHY
ELIA, ADOLFO
ELIA, ROBERTO
ELISABETTA, BERTOJA
ELLESTON, MARSHA
ELLIOT, ANNIE (BUSS)
ELLIOT, JOHN
ELLIOT, LINK
ELLIOT, LYNN
ELLIOT, TOM
ELLIOTT, JOHN
ELLIS, TIM JAMES WILLIAM
ELLSWORTH, JENNY
ELTRINGHAM, HANA (WHITFIELD)
ELY, TIM
ELZENGER, BERT
EMGART, LENNART
ENGELBRECHT, ANDRE
ENGLISH, HOWARD
ENNIS, SONYA
ENRIQUEZ, PEDRO
EPP, HARTA
ERHARD, WERNER
ERLICH, DENNIS
ESCAMILLA, OSCAR
ESQUINAZ, URI
ESSLAND, LES
EUBANKS, DILLARD
EUENSCHWAND, ULRICH
EVALDSEN, FLEMMING
EVERETT, JON
EXANDER, PAUL
---------------------------------------------------------------
FABER, NANCY
FABER, RANDY
FABRIS, FREDERICA
FACCHINETTI, PAOLO
FAIER, MIRIT
FAIR, SALLY
FAIRBANKS, MURRAY
FAIRBANKS, SYLVIA
FALZON, ENZA
FARBER, EVANS W.
FAREED, ARIF
FARROW, JEFFERY KIM
FARROW, LESLIE ANNE
FARROW, MARY JANE
FARRU, CARLO
FASTERT, KATHY
FASTERT, PETE
FAU, RICARD
FAULKNER, JACK
FEARON, GEORGE
FEHR, BRENDA
FEILD, RESHAD
FELDMAN, MICHAEL
FELDMESSER, ELISABETH
FELLI, ALESSANDRO
FELLOWS, RAYMOND
FELTRIN, CLAUDE
FEMMINIS, ANTONELLA
FENTON, PENNY
FERRADJ, DELKACEM
FERREIRA, LOURDES
FERREIRA, MARC
FERRELL, JOHN
FERRER, ISABELLA
FERRERO, ALBERTO
FERRIS, EVAN
FERRO, JUANITA
FERRY, MONICA
FERRY, STEVE
FEUGA, OLIVIER
FIDSDALE, DR. BENT
FIEDLER, ANDREA
FIELDS, BRUCE
FILBERT, GEOFF
FILISKY, VALERIE (ORTMAN)
FILLER, MATT
FILREIS, JIM
FINCH, BETTY
FINDLAY, DAVID
FINDLAY, KIRSTEN
FINGERS, DAVE
FINLEY, DREW
FINLEY, MARTHA
FISCHER, JANET
FISCHER, RICHARD
FISHER, BETTY
FISHER, JOHN
FISHER, MARK CHRISTIAN
FISHER, PATTIE
FISHER, ROBERT WILLIAM JAMES
FISHER, SUE
FISHMAN, GABRIELLE
FISHMAN, MARCUS
FISHMAN, STEVEN
FJAL, JOHNNY
FJALL, KAIJA
FLEETHAM, SCOTT
FLETCHER, HOWARD (BUDDY)
FLOOD, PAM
FLORES, ANTONIO
FLORES, GUILLERMO
FLORIAN, GIOVANNA
FLORIDI, MARIO
FLUORNOY, JOHN
FLOWER, MARY
FLOWER, NICK
FOERSTEL, HELBERT (FURSTEL)
FOERSTEL, HELGA (FURSTEL)
FOIS, LAURA
FOIS, LUISA
FOLEY, INEZ
FORD, BRUCE
FORDE, PETER
FORSES, GRAHAM
FORSTNER, ROLAND
FOSDICK, BILL
FOSTER, LEWIS
FOSTER, MARK JULYAN
FOSTER, PATTY
FOUCHE, JOCELYNE
FOUCHE, KERRY
FOX, ANTHONY
FOX, DAVID
FOXNESS, SHIONA
FRACASSETTI, MARINA ERNES
FRACASSETTI, TIZIANO
FRANK, MARRIANNE
FRANKLIN, PAUL
FRANKLIN, PHYLLIS
FRANKS, BILL
FRANSISCO, ALFRED
FRANZ, KARIN
FRASSINETTI, MARCO
FRATTO, PINO JO
FREEDMAN, FRANKIE
FREEDMAN, JOAN TAKAKO
FRIAS, JOSE LUIS
FRIBERG, BENGT
FRIEDRICHSEN, SANDI
FRIEND, ROXANNE
FRIES, GALEN
FRIESE, PHIL
FRIETAS, MIGUEL
FRIGERI, DITORE
FRISK-WASSAETHER, CECILIA
FRITH, MARYANN
FRITSCH, ERICH
FRITLER, FRED
FROBER, LUCIE
FROKJAER, TOM
FROKJAR, KRYSIA
FUHRMANN, ANDREA
FUHRMANN, LARRY
FULLER, LOUISE
FULLER, MEL
FULLERTON, ANGELA
FULLERTON, CECILIA
FUNK, LINDA
FURNELL, WAYNE
FURSTEL, HELBERT (FOERSTEL)
FURSTEL, HELGA (FOERSTEL)
FYKE, RICHARD
---------------------------------------------------------------
GABLEHOUSE, LIZ
GAGERMAN, JERRY
GAJEWSKI, COLIN
GALLAGHER, RON
GALLAGHER, ROSS
GALLANT, JOHN
GALLO, CHARLES
GALLOWAY, IAN
GALPIN, JULIA
GALUSHA, JOHN
GAMBOA, FERNANDO
GAMBOA, TERRI
GANGGEL, RUDOLPH
GARCIA, CECILIA
GARCIA, JANICE
GARCIA, RICARDO
GARCIA, ROBERTO
GARD, ANNIKA
GARNER, CHARLES
GARONNE, JASON
GARRAWAY, ROB
GARRIETY, PAUL
GARRITANO, SILVANA
GARRITY, CAROL
GATLING, AL
GAYNES, BENTON, JR.
GAYNES, HARDY
GEARON, RICHARD THOMAS
GEE, JON
GELINAS, YVON
GENOVESE, ELIO
GENTRY, BRAD
BERGO, GAIL (BROWN)
GERBODE, SARGE
GERIS, JOHN
GERSTROM, OLE
GERVASONI, PIERANGELO
GHEZZI, CLAUDIO
GHIN, ANTONELLA
GHIONI, FABIO
GHIONI, LUIGI
GIACOSE, RICH
GIANLUCA, GIANLUCA
GIBSON, JAN
GIBSTON, STEVE
GIL, PEDRO
GIL, SANDRA
GILBERT, BENNO
GILBERT, EMILE
GILBERT, JAN
GILBERT, PHILIP
GILES, KINGSLEY
GILGAR, JOHN
GILL, DAVID
GILL, DYLAN
GILLETTE, KEVIN
GILLHAM, DOREEN SMITH
GILLHAM, PETER JR.
GILLIAM, JOHN
GINDEY, WAYNE
GIORDANO, LEDA
GIORDANO, SARA
GLASSFORD, JOHNATHAN
GLEASON, KERRY
GLENN, MIKE
GLUCK, ESTHER
GLUCK, EVELYN ANN
GODING, JIM
GODING, MARSHA ELLEN
GOLDBERG, JED
GOLDEN, MICHAEL
GOLDFIELD, EMILY
GOLDFIELD, STEVE
GOLDSTEIN, MIKE
GOLDSTEIN, REBECCA
GONNET, ROGER
GONZALES, GIOVANI
GONZALES, PABLO
GONZALES, GENARO
GONZALES, REBECCA DIAZ
GOODMAN, JILL
GOODMAN, RANDY
GOODRICH, ANN
GOODWIN, PETER
GORDON, LORI
GORDON, MILT
GORDON, MILTON
GORDON, PATRICK
GORDON, ROBERT
GOSDELL, PETER
GOTON, DR. AKIRA
GOTTFRIED, RANDY
GOTTLIEB, AUBREY
GOULD, YVONNE
GOULETTE, FABRICE
GRACE, MARILYN
GRADY, DALE
GRADY, JANICE
GRADY, PAUL
GRAESSLE, CRAIG
GRAHAM, DAVID GRIFFITH
GRAHAM, KATH
GRAHAM, MICHAEL
GRAHAM, PAM
GRANADA, RENZO
GRANT, JIM
GRANT, JULIE
GRANT, PETER
GRANTHAM, DIANE
GRANTHAM, PATT
GRAY, LES
GREAVES, JUNE
GREEN, BERNIE
GREEN, PETER
GREEN, RICK
GREENE, BERNIE
GREENE, DORAN
GREENE, JEANIE
GREENE, PETER
GREENMANTLE, STEVE
GREGORY, CALVIN
GREIG, DAVID
GREIVE, GARY
GRIFFITH, GUS
GRIFFITHS, PETER
GRIMES, BRIAN
GRIMES, JULIE
GRISWOLD, EILEEN
GROENHUIZEN, FRITZ
GROSS, ERIC
GROSSET, OLIVER
GROSSMAN, HELENE
GROVERS, PETER
GUERIN, JOE
GUILBEAULT, BRIAN
GUILLEMIN, MARIE NOELLE
GUINWAN, TONY
GUSTA, DENISE
GUSTA, MATTHEW
GUY, ALISTAIR
GUY, BERNIE (DUBOIS)
GUY, COLIN
GUY, EWAN
GUY, JEAN-PAUL
---------------------------------------------------------------
HABER, BLAKE
HABER, DONNA
HARBER, HARVEY
HABIB, PAT
HACHER, ALLEN
HACKER, FRED
HADFIELD, ANTHONY
HAGEN, MARIANNE
HAGNAZARIAN, VIKE
HAHN, KLAUS
HALD, TOMMY
HALFORD, ELENA
HALL, CINDY KAY
HALL, EVERET V.
HALL, KEVIN MICHAEL
HALL, STEPHEN
HALONEN, GARY
HAMAJI, MARY
HAMILTON, BILL
HAMILTON, MATT
HAMILTON, STARR HARVEY
HAMILTON, VIBEKE
HAMLIN, AVERY
HAMMILL, NEIL
HAMMONS, SHAWN
HANCOCK, DAVID
HANCOCK, KEVIN
HANEY, HEATHER
HANEY, RAY
HANLEY, BILL
HANLEY, CAROLINE
HANLEY, JOHN
HANSEN, ARDEN
HANSEN, DIANNA
HANSEN, KJELD KINEI
HANSON, JEANNIE
HANSON, NOEL
HANSON, JEANNIE
HARDY, NICK
HARE, JAMES
HARIS, DON
HARKER, BILL
HARKER, LESLIE
HARMAN, RAY
HAROD, HERB
HARPER, LEN
HARRELL, BRUCE
HARRIS, ARNOLD
HARRIS, CAROL THOMAS
HARRIS, JONAH
HARRIS, TRAVERS
HARRISON, HUGH
HARRISON, MARK
HARRYMAN, MELISSA
HART, MAUREEN
HARVEY, CRAIG
HASLAM, SANDRA
HASLAM, STEVE (REED)
HASSELBERGER, CHANTALE
HASSELBERGER, SUSAN
HASSING, BILL
HAUG, RALPH
HAWLEY, KEN
HAWLEY, NANCY
HAY, GEORGE
HAYES, GREGORY EUGENE
HAZEL., INEZ
HAZELWOOD, GERRY
HAZELWOOD, TONI
HEARST, NANY (DOWERS KUGLER)
HECHE, ADAM
HEDGECOCK, MIKE
HEEDE, FRITZ
HEID, MANFRED
HEIDERER, MAX
HEINRICHMEYER, LUDGER
HEINS, ELLA
HEISER, DAVID
HELFENBERGER, VIRGINIA
HENDERSON, NELSON
HENDERSON, SABRINA
HENDRICKS, CRAIG
HENNING, DAN
HENSON, ROGER
HENWOOD, DAVID ROSS
HENWOOD, ELAINE
HEPNER, NORM
HEREFORD, CHARLES
HERMANN, ARNOLD
HERMANN, SYLVIE
HERMANS, KARL
HERMANS, KATHY
HERNANDEZ, AGAPITO
HERNANDEZ, LESLIE
HERNANDEZ, MARIO JR.
HEYMANS, JOCIM
HIATT, WARREN
HIGGOTT, CAROL
HILL, BOB
HILL, ERIC SHAWN GILLIS
HILL, GRANT
HILL, JUDY
HILL, SALLY LOUISE
HILL, VAL
HILLARD, THEO
HILTON, RALPH
HILTON, RICK
HINDMARSH, GINNY
HIRSHERBERGER, TORSTEN
HITON, RICK
HOBEL, ARLYN
HOBEL, GENE GAIL
HOFER, MARTIN
HOFER, SUSI
HOFFMAN, MARGIE
HOGAN, IAN
HOGBERG, ULF
HOLLAND, GAIL
HOLLANDS, BRETT
HOLLELEY, PETER
HOLLIDAY, CARL
HOLLOWAY, DEBBIE BELL
HOLLOWAY, DON C.
HOLMES, DOUG
HOLMES, LINDA
HOLMSND, ALAN
HOLROW, PAUL
HOME, ULLI
HOMIER, BERNARD
HOOD, DOUGLAS
HOOKER, BOBBY
HOONG, ALAN CHOCK
HOPKINS, RON
HOPKINS, SUSAN
HORN, ERNST
HORNER, JACK
HORROCKS, KAREN
HORSTEDT, ROY
HORVATIC, TRACEY
HOTTOIS, PHILIPPE
HOTTOIS, TERESA
HOVERSON, SIG
HOWARD, STEVE
HOWARD, WALT
HOWE, BERNICE
HOXIE, BETH ANN
HUBBARD, GREG
HUBBARD, RICHARD
HUBER, FRANK
HUCKER, CHRISTINE
HUFFAM, BLAKE
HUGHES, DICK
HUGHES, KEN
HUGHES, RICHARD
HUNT, MARTIN
HUNT, PAGE
HUNTER, REX
HURST, NAN
HURTADO, FRANK
XXXXXXX, JAY
XXXXXXX, PAM
HUSS, MILLIE
HUTCHERSON, MATT
HUTCHINS, WAYNE
HUTCHINSON, DAWN
HUTSON, MIKE
HUTTON, KIM (TAYLOR)
---------------------------------------------------------------
ILICH, ROBERT
IMBURGIA, PETER
IMPNEY, CYNTHIA
ISRAELSON, PRESTON
IZNAOLA, MARTIN
---------------------------------------------------------------
JACKSON, ADRIENNE
JACKSON, CHARLES
JACKSON, CLARISSE
JACKSON, KEVIN
JACKSON, TERRY ANN
JACKT, LAUREL
JACOB, RICHARD
JACOBI, MONIKA
JACOBS, CAROL JUNE
JACOMIE, SAUNDRA
JACONELLO, GILES BENJAMIN
JACQUES, CATHERINE
JAMES, BOB
JAMES, LORI
JAMTHEDEN, ANNIKA
JAMTHEDEN, LARS
JANSEN, LOTHAR
JANSSON, BERNT
JANSSON, CHRISTINE
JANSSON, JAMINE
JARAMILLO, DUANE
JARON, TOM
JARRETT, SCOTT
JARVA, HARRIET
JASNOCK, DEREK
JASSO, ANNETTE KELLY
JEFFERSON, TOM
JELLISON, CECIL "DON"
JENKINS, ROD
JENKINSON, ARTHUR
JENNINGS, LESLIE
JENNINGS, MARGARET
JENSEN, LARRY
JENSON, DONNA
JENZEN, DOMINO R.
JEPSON, GARY
JERLING, CARA
JERLING, FRANCESCA
JERLING, MARA
JESSUP, AMOS
JESSUP, ARIEL
JESSUP, DALY
JESSUP, JAN
JIMENEZ, JOSE ANTONIO
JIMENEZ, ONDINA
JOHANSEN, JOHNNY
JOHANSEN, OJVIND
JOHANSSEN, ARNE
JOHANSSON, LESLIE
JOHNSON, JULIE
JOHNSON, LAMONT
JOHNSON, MARK
JOHNSON, MATTHEW
JONES, BOB
JONES, HARDY
JONES, JAMES "ROLI"
JONES, MARK
JONES, RORY
JONSSON, BOB
JORDAN, DAVID
JORDAN, JULIE
JORY, DORANNE
JOYCE, TOM
JUELICH, BAMBI
JUELICH, ED
---------------------------------------------------------------
KALAPUS, LARRY
KANDA, CAROL ANN
KAPLAN, STEVEN E.
KARAGIANNIS, DIMITRI
KARAS, DAVID
KATHARY, DALE
KATKE, TOM
KAWALLER, PAUL
KAY, BOB
KAYSER, JOE
KEAT, DAVID
KEAT, URSULA
KEATING, SANDRA KATHERINE (VOSS)
KEATS, JEFF
KEELEN, DON
KEELER, DAVID
KEELER, DON
KELDERS, ANDRE
KELLY, BESS
KELLY, CHARLES
KELLY, DENNIS
KELLY, MIKE
KELLY, PATRICIA
KELLY, QUENTIN
KEMBER, JANE
KEMP, DAVID
KEMP, PAM
KEMP, RAY
KEMPFF, STEPHEN P.S.J.
KEON, GWEN
KERN, LORI
KERR, GUS
KERSHAW, DORIS
KERSHAW, JOHN
KESSLER, STEPHEN EDWARD
KETTERIDGE, GLYNN
KEYES, KEN
KHALIPA, MICHEL
KIEFER, DORTHE
KIEFER, MATHIAS
KIENE, IRMGARD
KIHNG, JIM
KIMNACH, DON
KING, CHRISTINA
KING, FRANCIS
KING, JOE
KINNES, LARRY
KINNINGER, RICHARD
KIRDY, SABRINA
KIRK, KEITH
KIRKLAND, DAVID
KIRN, HERBIE
KIRVES, JOUKO
KJOLSETH, FLORENCE
KJOLSETH, JOHN
KLEIN, GEORGE
KLENDA, CHRIS
KLIN, ARLENE
KLINGVALL, LIESE
KLINGVALL, TOMMIE
KLOOPER, PAUL
KLOSE, GERRY
KNIGHT, BILL
KNIGHT, JOE
KNIGHT, KAREN
KNIGHT, MARY
KNOBLACK, DAVE
KNOLL, VALERY THIERRY
KNUTSON, ERIC JOHN
KOEHLER, DEBBIE
KOHLERT, THOMAS
KOKEN, LESLIE
KONIG, FRED
KONNEUS, LAURE BETH
KONNEUS, LAURIE
KOPEC, CHERYL
KORNISH, LOIS
KORNISH, WILBUR
KORRINGA, DERK
KORSCH, BRIGITTE
KOTPTA, KURT
KOUPAL, EDWIN A.
KOWHLER, DEBBIE
KRAHENBUHL, LUCIA
KRAHENBUHL, PETER
KRAMFF, ULRICH
KRENIN, RAYMOND
KREUZWIESER, INGRID
KROMMER, MATHIAS (PATEL)
KRUGER, CAROL
KRUSSELL, MARIE LOUISE
KUBICA, GARY
KUGLER, NANCY (HEARST BOWERS)
KUHN, ROLAND
KUNI, TIMO
KUYPER, KATHY REGAN
---------------------------------------------------------------
LA CLAIRE, RICK
LA FERLA, RICK
LA FLEUR, PIERRE
LA FONTAIN, MARC
LAHDE, DICK
LAMBERT, BRIAN
LAMBERT, MICHELLE
LAMBERTSEN, NEILS
LAMBERTSON, ROBIN (ROOS)
LAMONT, PETER
LAMPTEY, BRITT-MARIE NASLUND
LAMSDAL, WENDY
LAN, ISSAAC M.
LANCIAI, MICHAEL CARL
LANCIAI, SUSANNE
LAND, NOEL
LANDAIS, RAFFAELLA P.
LANDRY, DALE
LANDRY, STEVE
LANGLEY, SUZANNE
LANGLO, JENNIFER
LANTEIGNE, LANNA
LAPIERRE, FRANCOIS
LARSEN, CHRISSY
LARSON, CHRIS, (DUMSICK)
LARSON, DON
LARSON, LINDA
LARSSON, BO
LARSSON, KENNETH
LARSSON, LENNART
LARSSON, PIRIJO
LAURENT, ALAIN
LAURITZEN, PETER
LAVALLE, GARY
LAVEGLIA, ROBYN (ANDREWS)
LAWLEY, MIKE
LAWLEY, RON
LAWRENCE, JOHN
LAWRENCE, LEE SR.
LAWSON, JACQUI
LAYNE, DONALD
LAYNE, VALYA
LAZENBY, JAN
LE GOUX, PIERRE
LEANNA, KRISTI
LEAR, LILA
LEBEL, JILL
LEE, JEFF
LEE, RENEE
LEIGHTON, DEBBIE
LEIMBACH, MONIKA
LEM, CATHERINE
LEMOINE, MARTIN
LEMOINE, SUSAN
LEONE, MARILINA
LEONG, JOHN
LERNER, DAVID
LESTER, JIM
LESTER, ROBBIE
LETKEMAN, SARA
LEVENSON, LESTER
LEVENTHAL, DON
LEVHAN, ROSI
LEVIN, JOAN PRATNER
LEVIN, ROBIN
LEVINTON, BRUCE
LEVMAN, BRYAN
LEWEY, EVA
LEWIS, DOUG
LEWIS, PETER
LIBERSON, MAX
LIBERSON, ZHEV
LICHT, DENNIS
LIDKVIST, KJM
LIEBERZ, SUSAN
LIGHT, DENNIS
LINDERMAN, LOREN
LINDERMAN, SHAWN
LINDGREN, BO
LIPTON, KENNY
LIPTON, MICKEY
LISKER, ROY
LISTA, GLORIA
LISTER, AL
LISTINO, ROBIN
LITTLE, JACK W.
LITTLER, LEIGH
LITTLER, ROBERT
LIVINGSTON, BRIAN
LIVINGSTON, VICKI
LOBDELL, MIKE
LOCKEY, DAVE
LOCKWOOD, HEIDI
LODI, CARLO
LOGAN, TRACY
LONG, BILL
LONG, FRED
LOOF, DAN
LOPEZ, EDUARDO
LOPEZ, EDUARDO
LOPEZ, JORGE
LOREE, GREG
LORENZO, JEAN-CLAUDE
LOTEN, JAMES
LOTT, GEORGE
LOUTSENHIZER, JOHN
LOVATO, FRANK
LOVING, BRIGITTE
LOVING, RON
LOVLEY, TOM
LOWE, TOM
LOWENHIELM, CHRISTOPHER
LUCAS, CHRIS
LUCAS, MARGARET
LUCERO, MICHAEL
LUCIA, ELIA
LUCKMAN, GLEN
LUCKMAN, MELODY
LUKER, TONY
LUNAR, STEN
LUNDQUIST, LEON
LUSCOMBE, GARY
LUSSIER, LOUIS
LUTSKUS, VINCE
LUVALLE, JOHN
LYNAS-JONES, ALEX
LYNCH, JOHN
LYNN, LAVINIA
LYONS, VIC
---------------------------------------------------------------
MAC GREGOR, BILLIE
MAC KAY, ETHEL
MAC LEAN, JENNIFER
MAC LEAN, KEN
MAC LELLAN, SANDY
MAC PHERSON, MALCOLM
MAC VEA, NORM
MACE, BETTY
MACE, EDDIE
MACE, MARJORIE
MACE, PAULINE
MAGAZINER, BOB
MAGDALUYO, MIKE
MAGGI, VITTORIA
MAGGINI, PAOLO
MAHONEY, SALLY
MAIER, DON C.
MAINELLO, BERNARD JOSEPH
MAJI, KARL
MARKOLLUS, DALIA
MARKOVEC, JOANNE
MALAMISURA, PAOLO
MALLAN, GLENN
MALLONE, LISA (VALENTE)
MALMBERG, KURT
MALMKVIST, GUN
MALONE, LIZ
MANFRINI, LAURA
MANGIARINI, GIOVANNA
MANITTA, MASSIMO
MANN, PAUL
MANNARA, FRANCESCO
MANNING, MONICA
MANRIQUE, PEGGY
MANSO, SILVIO DIAZ
MARCHI, LUCA
MARCUSSEN, JOHN
MAREN, MARY
MARIO, MAURICE
MARKIN, JOY
MARKS, PAT
MARPLE, WAYNE
MARRELL, ERIC
MARSDEN, DEBBIE
MARSHALL, BETH
MARSHALL, DOREEN
MARTI, EDWARD HARDY
MARTIN, ALLISON
MARTIN, BOYD
MARTIN, CURTIS
MARTIN, ERNIE
MARTIN, ROGER
MARTINEK, CARLOS
MARTINEZ, ALEX
MARTINEZ, FRANCISCO
MARTINEZ, JANELLE
MARTINTO, GIORGIO
MARTINSON, JAN
MASE, CATHY
MASH, MIKE
MASON, DAN
MATAR, GLADYS
MATE, KATE
MATHEEN, GENE
MATHER, RICK
MATHEWS, HEATHER
MATTILL, ALEX
MATZNER, HELMUT
MAUERHOFER, DANIEL
MAURICE, MARIO
MAURO, ANTOINETTE
MAURO, CHRISTIAN
MAWE, GUNILLA
MAISON, JOHN
MAXWELL, FLO
MAY, DERRIC
MAYO, DAVID
MAYO, DIANA
MAYO, JULIE
MAYO, MERRILL
MAYOFONTAS, LAURA
MAYOR, YVAN
MAZZUCCHELLI, LUIGI
MC AINEY, PHIL G. (MC CANNEY)
MC AVOY, DENNIS
MC CANNEY, PHIL G. (MC CAINEY)
MC CARTHY, JOHN
MC CAULEY, ROGER
MC CLURE, CATHERINE (BAUDAR)
MC CONNEL, JANETTE (OAKEY)
MC CORMICK, JOHN DAVID
MC CRINK, JASON
MC DANIELS, DAN
MC DAVID, BLAIR
MC DAVID, JULIET
MC DONALD, DIANE
MC DONALD, KRISTIE
MC DONALD, SAMMY
MC DONOUGH, JACK
MC DOUGAL, CHUCK
MC ENERY, DEC
MC FARLAND, COLIN
MC FARLANE, DARBY
MC FARLANE, KEN
MC FARLANE, RAGGIE
MC GAHEE, DENISE
MC GAHEE, MIKE
MC GILL, BILL
MC GINLEY, JOHN
MC KAY, SCANLON
MC KEE, BROWN
MC KELLAR, JOAN
MC KELLOP, KEITH
MC KENZIE, DAN
MC LAIN, JANICE
MC LAUGHLIN, JOSE
MC LAUVIN, TOM
MC MAHON, MARI
MC MANUS, MIKE
MC MANUS, ERNA
MC TAGGART, KYLA
MEACHAM, HUGO
MEACHAM, MAGDALENA
MEADOWS, DONNIE
MEADOWS, RUSS
MEARNS, ROBERT B.
MECHAM, BRENT
MECHAM, HUGH
MECHAM, MADALENA
MEEK, SCOTT
MENDSLOW, CLAUDIA
MERCHANT, ARJAY
MERK, LORENZO CHRISTIAN
MERRIWETHER, MARK
MESSENGER, SHARON
METIVIER, AUGUSTE
MEYER, KENT
MEYER, MICHAEL
MEZA, ARTURO
MICHAELS, MARILYN
MICHIE, TED JOHN EDWIN
MICHIELETTO, DINO
MICKA, JERRY
MICKIE, CATHY
MICKISCH, STEFAN
MILANI, RENATO
MILES, MARILYN
MILES, ROBERT
MILLER, BOB
MILLER, CRAIG
MILLER, EDWARD N.
MILLER, GEOFF
MILLER, KATRINA
MILLER, LINDA
MILLER, MARY KATE
MILLIGAN, MIKE
MILLIGAN, TEDDIE
MILLUL, ISABELLE
MINGIONE, THIERRY
MINISSA, PETER
MINNOYE, ANTOINE
MINOLIEN, GERARD
MINUTILLO, DANIELA
MISH, RAY
MITCHENER, TRACY LEE
MOCKLI, ERIC
MOFFAT, TOMMY
MOGUL, DAVID
MOHORN, GERTRUDE
MOHORN, WILLY
MOLINA, MIRIAM AMELIA
MOLINARO, ELVIRA
MOLLMAN, KALLE
MONACO, STEVE
MONFRINOTTI, ALBERTO
MONGIELLO, JOAN
MONGIELLO, ROBERT
MONTILEONE, FRANK
MOORE, TIM
MORAVEK, PAUL
MORGAN, GARY
MORGAN, MARK
MORGAN, TRISHA
MORLAND, GRAHAM
MORLAND, JULIE
MORMONE, SALVATORE
MORRELL, ERIC
MORRIS, APRIL
MORRIS, FELICE
MORRIS, SUSAN
MORRISON, ELIZABETH
MORRISON, JOHN
MORRISON, LIZ
MORTEN, RON
MOSER, FRITZ
MOSLEY, BRAD
MOSSBERG, BRITT-MARIE
MOYER, DALE
MULGREW, SEAN
MUMBY, KEITH
MUMBY, PAULINE
MUMFORD, IRENE
MURAKAMI, BETTY
MURAWSKI, ED
MURO, JAMES
MURO, LINE
MURO, STEVE
MURPHY, VIV
MURRAY, RON
MURRAY, TED
MUSCOLINA, ENRICO
MUSONI, LORIS
MYCOFF, CARL
MYER, MICHAEL
MYERS, DAVID
MYERS, TINA
MYERSON, MARK
---------------------------------------------------------------
NAGHSN, SIMIENE
NAINCHTEIN, TEVI
NAKAMURA, ROSS
NARBAITS, PHILIPE
NARBAITS, PATRICIA
NARCISO, CONNIE
NASH, JAN
NASH, JIM
NASH, JOHN
NDLOUV, SIZIBA
NEDVEDOVICH, NATHAN
NEEDHAM, JACK
NEGRI, MARIO
NEIL, GLORIA
NELSON, CRAIG
NELSON, JOHN L.
NEPUTE, TOM
NERI, DAN
NELSON, OWEN
NEUMEYER, GLORIA
NEVILLE, GEOFF
NEWCOMB, WAYNE
NICHOLLS, MARCI
NICHOLS, JEFF
NICHOLS, SHARON
NICKEL, MELVIN
NICOL, COLIN
NICOLAIDES, JOHN
NIELSEN, PAUL
NIELSON, JOHN DRIEL
NILSSON, BJORN
NILSSON, JOHN
NINI, DAL BORGO
NOBLE, JERI
NORDIN-SUTER, CHRISTINA
NORDLUND, THOMAS
NORDSTROM, RICH
NORRIS, KATHRYN
NORRIS, KATHY
NORRIS, NICHOLAS
NORTH, CARLA
NORTHCROSS, GAIL
NORTON, CHRIS
NOTARGIACOMO, SERAFINA
NOTHLING, MALCOLM CLAUDE
NOWELL, GERRY
NOYER, BERNARD
NUNN, NANA
NUSSBAUM, BARRY
NUTTER, DARCI
NYGAARD, ULLA
---------------------------------------------------------------
O'CONNELL, BERNADETTE
O'CONNELL, EVELYN MARY
O'DONOHUE, AUDREY
O'NEILL, ROBERT
O'SULLIVAN, JIM
OAKEY, JANETTE (MC CONNEL)
OBELINSKI, IVAN
OBERG, VALLE
OCEGUERRA, MOISES
ODINI, MARIO
OGER, CORINNE
OHEMING, JOHN
OHLIN, PER
OLDHAM, STEVE
OLECHOWSKI, JOSEPH
OLESEN, FRANK
OLIVARES, RAUL GARCIA
OLIVIERI, PAOLO
OLSEN, MARINA
OPILA, LARRY JOSEPH
OPILIA, LARRY
ORALDE, YOLANDA
ORAM, CELESTE
ORENICK, PAT
ORSAK, JASON
ORTMAN, VALERIE (FILISKY)
OSORIO, ELEAZAR
OSPITIA, HENRY
OSVATH, ANDY
OTTEN, PAULETTE
OWELLAN, PATRICK
OWEN, BILL
---------------------------------------------------------------
PABEL, JOHANNA
PACEY, DAN
PACITTI, GINO
PAGE, CHRISTIAN
PAGE, SUSAN
PAGE, VINCENT
PALMER, HARRY
PALMQUIST, HENRIK SVEN
PARADIS, DENIS
PARIZER, GALIT
PARKES, JAN
PARKHOUSE, HERBIE
PARKS, BILL
PARKS, JAN
PARLY, MIKE
PARSELLE, CHARLES
PASCAL, OLIVIER
PASCOLETTI, SILVIO
PASE, LAURIE
PASE, MARILYN
PASE, ROSIE
PASEWALK, ELISABETH
PATEL, MATHIAS (KROMMER)
PATHMAN, SUE
PATRICK, BRIAN ROBERT
PATRICK, CELIA
PATTERSON, BOBBY
PATTERSON, GRAHAM
PATTERSON, THEO
PATTINSON, PAUL
PAUL, BILL
PAUL, CLAUDIA
PAVESI, ARTURO
PAYNE, BILL
PEACHY, LIZ
PEARCE, GREG
PEARCE, RON
PEASE, GAIL
PEASE, HOWARD
PEDERSON, DONNA
PEDERSON, LARS
PEDROZA, JORGE TOMMASI
PEDRY, KAREN
PEDRY, WILLIAM
PEITERSON, LARS
PEITZ, JERRY
PELLEGRINI, MAURA
PELLEGRINO, TERESA
PELLERTON, BILL
PELLETIER, WILLIAM FRANCIS
PENDERGRASS, KATHY
PENNY, BOB
PENROSE, TERESA
PERCHINUNNO, ANTONIO
PERCZEK, RUBEN
PERELLI, ROSE
PERGUSON, NAT
PERKINS, JIM
PERLER, CHRISTA
PERLER, DANIEL
PERLMUTTER, GARY
PERRAS, PAUL
PERRI, CLAUDIO
PERRIN, STEVE
PETERSEN, INGE
PETERSEN, PAM
PETERSON, DICK
PETERSON, JANE
PETERSON, JUSTIN
PETERSON, RAINER
PETERSON, SVEN
PETIT-CADOLFI, JEAN-PIERRE
PFAFFERHOSCHKE, FRANK KLAUS
PFLUGER, CHRISTOPH
PFLUGER, CLAUDIA
PHILLIPS, RICHARD
PHILLIS, STEFAN
PICCINELLI, ALFREDO
PICHETTE, BRIAN
PICKSTOCK, KEITH
PIETRALONGA, RAFFAELLA
PILO, BRUNO
PINDER, ANGIE
PITTARELLO, MAURIZIO
PIVO, LYNNE
PLADSBJERG, CLARA
PLANCK, GEORGE D.
PLANKIS, BOB
PLANTEEN, ERIC
PLANTEEN, KATHY
PLATTNER, CINDY
PODOLL, MARTIN
POGETTO, ELISA
POINSIGNON, GILLES
POIRIER, YVAN
POISSANT, DIANE
POLIMENI, LINDA
POLIMENI, NICK
POLISKI, MICHAEL
POLWART, STEPHEN
POMEROY, SUE
POMPEI, LUIGINA
POORTENAAR, ELLY
POPE, GERRY
POPOVICH, MIRKO
PORIER, LISE
POST, DAVID
POVALL, AMY
POVALL, DICK
POWELL, GORDON
POWELL, VICKI-LEIGH
PRADAT, THIERY
PRATHER, JOAN
PRATT, JUDY
PRATT, PALUCIA
PREECE, DEVAN
PRICE, FREDERICK WILLIAM
PRICE, MARVIN
PRIER, DEBBIE
PRIETRO, JORGE
PRIMROSE, CLAY
PRIOR, INES
PRON, DINI
PROSEN, TIM
PROVENZANO, TOM
PRUGSLEY, ALAN
PULLEN, OTIS
PUNTIROLI, CESARE
PUPILLO, MASSINO
PUTTICK, DAVID
---------------------------------------------------------------
QUANDER, MICK
---------------------------------------------------------------
RACE, SYLVIA
RADEMUILLEE, INGRID
RAFANELLO, JOHN
RAGGI, DANIELLE
RAHN, GREG
RAINE, KATHY
RAMON, SASTRE
RAMSEY, DAVID
RANDALL, FREDDIE
RANDALL, LYNN
RANDALL, PAUL
RANUS, ARACELI
RASPANTE, VINCENZO
RAUCCI, GIOVANNI
RAUDEN, LEW
RAXNER, MICHAEL
RAY, DAVID
RAYMOND, CHRIS
RAYNER, STEPHEN
RAZZA, GRAZIELLA
REAVES, LARRY
REAVIS, JOHN
RECKERS, JIM JR.
RECTOR, GINA
REDAELLI, FABIO
REECE, ROS ROYE
REED, FRED
REED, STEVE (HASLAM)
REIKE, SHERRY
REINER, LARRY
REINERSTON, ERIC
REINSTEDT, ERIC
REISCH, MAX
REISCH-FISCHER, MARIANNE
REISDORF, DEDE
REITZ, DAVID
REITZ, ELSE
REITZ, GABI
REITZ, LOTHAR
REITZ, PHAEDRA
REMAK, LILLIAN
REMITZ, BILL
RETI, SANDRA (BOMMEL)
REVELL, SUE
REX, MARCI
REZZONICO, ANDREA
REZZONICO, BOB
RICE, DUONE
RICH, JON
RICH, ROSAN
RICHARDSON, BRENDA
RICHARDSON, CHUCK
RICHARDSON, KEN
RICHARDSON, LARRY
RICHESON, BRUCE
RICHMAN, JOEL
RICKARD, HARRY
RIDDERSHOLM, CARSTEN
RIEKE, SHERI
RILEY, KARL
RINALDI, DORTOLO
RINALDI, PAOLO
RINGQUIST, BRIGITTA
RISSO, JOHN
RISVOLD, TERRY
RISVOLD, YVONNE
RIVERA, AWILDA
ROBERTSON, MARK
ROBERTSON, RENE
ROBITAILLE, YVES
ROBLES, JOLLY
ROBOTTON, RICARDO
ROCHE, CARLA
ROCHE, GREG
ROCKHILL, MARY MATHES
RODERIC, DALE
RODINE, CYBELE
RODRIGUEZ, ENRIQUE-THOM
RODRIGUEZ, TOM
RODRIGUES, MANUEL
ROEST, LARS PETER
ROGEN, PETER
ROGERS, JAMES D.
ROGIES, AUGUSTUS
ROGIES, JAMES
ROHEM, DAN
ROHEM, GRISELDA
ROHL, DAVID LAWRENCE
ROLAND, FORESTHER
ROLSTAD, JAN
ROLSTAD, JUDY
ROHEN, SHAGHAR
ROHEN, MIRA
RONQUIST, JON
ROOS, OTTO
ROOS, ROBIN (LAMBERSTON)
ROSE, DIANA
ROSE, KEN
ROSE, LEONARD
ROSENBERG, ANDREAS
ROSENBERG, LIZA
ROSENBLUM, ANNE
ROSS, RICK
ROSSEAUX-ARBOIS, JORGE (LOKI)
ROSSETTI, JOHN
ROSSI, CINZIA
ROSSI, STEFANO
ROSSINI, TIZIANA
ROTH, DON
ROUMANET, MICHAEL J.
ROUSSEL, DENIS
ROUSSET, PHILIPPE PIERRE
ROUTSONG, MARILYNN
ROWE, MARY
ROWER, HOWARD
ROWLEY, DON
ROWLEY, LLOYD
ROYLANCE, PAT STORMY
RUBIN, MICHAEL
RUBIN, MIKE
RUFFEL, DIANE
RUFFEL, MARK
RUGGERI, WALTER
RULE, DEBBIE
RUSH, LINDA
RUSSEL, JANET
RUSSELL, JANET
RUSSO, GIOVANNI
RUSTON, MARTIN
RYAN, B. P.
RYAN, BILL
RYAN, PRISCILLA
RYSTROM, DAVE
---------------------------------------------------------------
SAATHOFF, ROSEANN
SAECKER, TOM
SAHLWALL, STEFAN
SAHWAHY, DIANA
SALA, SERENA
SALEN, TODDE
SALIN, DIDIER
SALINAS, MANNY
SALLEM, SILVIE
SALONEN, PAULI
SAM, DAVID
SAMS, JAMIE
SAMSON, LAURENT
SAMUELS, GLENN
SAMUELS, LAUREN
SAMUELS, MARTIN
SAMUELS, MAUREEN
SANDERSON, HELEN
SANDERSON, ROB
SANDIN, ANN
SANDQUIST, SORAN
SANFILLIPPO, ENZA
SARAFRAZ, BENROOZ
SARFATI, NEIL
SARGENT, FRANK
SARKANY, PAMELA
SASTRE, RAMON
SATTLER, BRIAN
SAUCHON, PHILLIPE
SAUERTEIG, MONI
SAUNDERS, ANDREW
SAUNDERS, RAY
SAWDY, ERIC
SAWYER, LEN
SCAGLIA, DOLORES
SCARRONE, VALERIO
SCHAEFER, NORM
SCHAFER, SIEGFRIED
SCHEBITZ, REINHARD
SCHELEIN, FAITH
SCHENK, HOLGER
SCHIRTSINGER, TENYA
SCHLEUE, JOE
SCHNEHAGE, JOAN
SCHNEIDER, DORTHEA
SCHNEIDER, RANDY
SCHNITZLER, NORBERT
SCHOBER, LISA MARIE
SCHWARTZ, ASHLEY
SCHWEITZER, JEANETTE
SCHWETTMAN, CATHERINE
SCIBPO, ENZO
SCOTT, DANA
SCUPMAN, PETER
SEALMAN, WES
SEAMAN, NED
SEARING, RHONDA JEAN
SECCHI, FIAMMA
SECRIST, KYM
SEIDEL, ELISABETH
SEIDLER, THOMAS
SEIFLEIN, PHIL
SEIGAL, LARRY
SELBY, LAURA
SELLAROLE, MARIA
SEMLIC, DOROTHY
SERAFINI, MAURIZIO F. L.
SERVIS, CINDY
SEUKERSKY, VERA
SEXSMITH, JOHN
SGARGETTA, PAOLO
SHAND, PAUL
SHANNON, MIKE
SHAPIRO, EILEEN
SHARK, NICK
SHAW, KAREN
SHEA, MIKE
SHEA, MIRIAM
SHEA, RED
SHINN, MARLENE (WEICHT)
SHORTER, FRANCESCA
SHREWSBURY, CAROLE
SHREWSBURY. VAL
SHURLOCK, ELIZABETH
SIBERSKY, ALEX
SIBERSKY, MAGGIE
SIEGAL, LARRY
SIEGHEZ, DENIS
SILVIA, MARGARET MILLER
SIMMONS, JERRY
SIMMONS, NOLA
SIMONE, DEBBIE ROSEMARY
SIMONS, DON
SIMONS, GLEN
SIMPSON, KATHLEEN
SJOGREN, ROLF
SKINNER, BOB
SKINNER, SHAWN
SKINNES, JAMES
SKOGLOV, LILL-BRITT
SLOCUM, LESLIE
SLOCUM, SCOTT
SMALL, HEIDI
SMITH, ARVA
SMITH, BYRD
SMITH, CHARITY
SMITH, CHRIS
SMITH, CRAIG
SMITH, CYNTHIA
SMITH, DENISE
SMITH, GARY
SMITH, JACK
SMITH, JOSEPH A.
SMITH, MARGARET
SMITH, MIKE
SMITH, PENELOPE
SMITH, RICHARD
SMITH, RODNEY
SMITH, SANDY
SMITH, SYLVIA L.
SMITHERS, DENISE
SMITHERS, FRED
SMITHERS, GULLIVER
SHOAK, GLENN
SNODGRASS, WAYNE
---------------------------------------------------------------
SODERBERG, KERSTIN
SOILES, CHRIS
SOMMERSTADT, REINHOLD
SORKIN, ROGER
SOROKA, ALEX
SOROKA, BEVERLY
SOUTH, RANDY
SPANGA, TOMASSO
SPARKS, EUGENE
SPEAR, JON
SPEAR, RICHARD T.
SPECIALE, TERESA
SPEER, BARBARA
SPEER, DENNIS
SPENCE, MERLE
SPENCE, MITCH
SPICER, TOD
SPICK,ANNETTE
SPIES, ANDRE
SPINA, CATERINA
ST. GEORGE, AIMEE
ST. PIERRE, CECILLE
STALNAKER, JAMES
STAMM, HUGO
STANAKER, JAMES
STANSFIELD, MANFRED
STANSFIELD, VALERIE
STARK, NORMA
STAROW, GREG
STECKLER, MICHAEL
STEELE, CILLA
STEGMEIER, DAVID
STEIN, MARY
STEINBERG, LEON
STEINER, CATHERINE
STEINER, DON
STEINER, LIZ
STEINERT, ELKE
STEINKE, DEBBIE
STEINS, ELLA
STEINS, KARIN
STENSGARD, JENS
STEPHENSON, JOYCE
STEQMAIER, DAVID NORMAN
STETTLER, WERNER
STEVENS, BRAD
STEVENS, JOHN
STEVENS, PAUL
STEVENSOI, PETER MORLEY
STEVENSON, MICHELLE
STEVENSON, MIKE
STEVENSON, TAMARA
STEWART, ALAN
STEWART, MARYON
STEWART, RITA
STILL, JESSE
STOCKDALE, RICHARD
STOKES, DEAN
STOKES, MELANIE
STOLL, RICK
STONE, JEFF
STRAUDER, VON
STRAUSAARD, BIRGITTE
STRAUSS, RON
STRAWSER, BILL
STREET, MARTHA
STRICKLAND, RICK
STRINGER, DAVID
STROM, BENGT
STROM, NILS-OLOF
STROMFELD, STANLEY
STUCKEY, GRAHAM
STUMP, ROCKY
STURGIS, KATHERINE
SUBRAN, GILBERT
SULLIVAN, CARMEL
SULLIVAN, LAURULLI
SUNSHINE, LEO
SURIOL, JORDI
SVEDLUND, PER
SVENSSON, JONAS
SWANN, INGO
SWART, LEON
SWEETLAND, SUSAN
SWIFT, SUE
SWISKO, RENEE
SYKES, DARELL
SYMONDS, DEANE JOHN
SYNDER, BRIAN
---------------------------------------------------------------
TAAMS, ALLARD
TADEUSHK, PAT
TALBOT, DANIEL
TALENT, KATHY
TARBET, JIM
TATONER, CHRIS
TAUGWALDER, ALOIS
TAYLOR, BRUCE
TAYLOR, DAVID
TAYLOR, GARY
TAYLOR, KIM (HUTTON)
TAYLOR, SCOTT
TAYLOR, SPANKY
TENNANT, DAVID
TENNBERG, LARS
TERRIS, RAY
TERSI, LUCA
THIELER, PHILLIP
THOMAS, BOB
THOMAS, GREG
THOMAS, LARRY
THOMAS, MARK
THOMAS, RENE
THOMAS, TOM
THOME, ULLI
THOMPSON, CHRIS
THOMPSON, KARINA
THOMPSON, PATRICIA
TIMBERG, LARS
TIMPSON, RICHARD
TINNEY, MARY LOUISE
TITMUS, COLLETTE
TOCKER, BRAD
TOJARI, DONATA
TOLENTINO, ERROL JOHN
TOLOSI, VINCENT
TOLOSI, WENDY
TOMASIAN, RICH
TOMS, MARIA
TOMS, SIMON PHILIP
TONHAUSER, HEIDI
TONHAUSER, TONI
TOPE, BRIAN
TORAIN, EDNA
TORRENCE, MERCY
TORRES, ANGEL
TOWERY, BRIAN
TOWNSEND, JEFFREY
TRAUBERMAN, TOM
TRELLER, MARGARET
TREMBLAY, CHANTAL
TREMBLAY, HAROLD
TREMP, HARRY
TRENITE, KOOS NOLST
TRIGGS, SARA
TRUAX, JANE
TSCHUDIN, RES
TUCKER, RICHARD
TUGBOBO, ROSALINE
TURNER, GEORGE
TURNER, JAMES
TUROL, YUSHA
TUROWSK, KARL HEINZ
TUTELLIER, SARA
TYLER, CHRIS
---------------------------------------------------------------
ULANDER, HELEN
UNGER, WOLFGANG
URQUHART, KEN
URSA, DAN
---------------------------------------------------------------
VAGGI, GIAN LUCA
VALENTINO, FRANCO
VALENTINE-SMITHE, MICHAEL
VALLIERS, INGRID
VAMPI, MASSIMO
VAN DEURSFORMAN, JAN
VAN DOORN, JUDITH
VAN DOORN, PETER
VAN GEMEN, HANS
VAN HARASZ, VICTORIA
VAN HOOMISEN, STEVE
VAN HOOMISON, MICHELLE
VAN STADEN, JOE
VANASSE, DENNIS
VANCE, CLARK
VANDENBURG, MARILYN
VARIDAY, BRIAN
VARIUR, BILL
VAVRUS, MARK
VAVRUS, SHERRY
VEIN, ENID
VELKE, JOAN
VELKE, TOM
VERDEJO, CARMEN
VERKERK, ALBERT
VERNAN, BARRY
VERTACE, SAL
VICTOR, LEONARD
VIGIL, SHANNIN
VILJOEN, MARIO
VILJOEN, WENDY
VILLA, GIUSEPPINA
VILLADA, ALBERTO
VILLAGRAMM MOISES
VILLANUEVA, PAOLO
VIM, VOS
VINCENT, DEBBIE
VINK, NOELINE
VIOLA, SONIA
VIRELLA, NILDA NIVIA
VIRGILE, ROBERT
VISK, BOB
VISK, LYNN
VISTI, SOREN
VITOLO, GIULIANA
VOEGEDING, DIANE
VOGEL, BEAT
VOGELBACH, CHRISTIAN
VOGELBACK, NOTTA
VOGT, PETER
VOISIN, MARYLENE
VOKEY, MARK
VON AMSTEL, ANN
VON BERGEN, VRENI
VON KAPFF, ULRICH
VON LIEVEN, HANS
VOS, WIM
VOSPER, CYRIL
VOSS, RHONDA
VOSS, SANDRA KATHERINE (KEATING)
---------------------------------------------------------------
WAITING, BRIAN
WALKER, GORDON
WALKER, JEFF
WALKER, JOHN
WALKER, MICHAEL
WALKER, NOEL
WALKER, PETER
WALKER, RUSSEL
WALKER, SYLVIA
WALLIN, LAURIE
WALSH, BRIAN
WALSH, CELIA
WALSH, KATHERINE
WALTER, ALAN
WALTER, EDDIE
WALTZ, DICK
WARDLAW, EDDIE
WARDLAW, GWEN
WARNOCK, DON
WARNOCK, SUSAN
WARTER, CARLOS
WASHINGTON, DAVE
WASSAETHER, HANS
WASSERMAN, KEN
WATHEN, GEORGE
WATSON, ERNA
WATSON, MARGARET
WATTS, STEVE
WAXLER, IAN
WAY, MARK
WEBBER, WENDY
WEIB, AL
WEICHT, MARLENE (SHINN)
WEIDMAN, CHRIS
WEIR, KATHY
WEISHER, HANS
WELDON, CLARK
WELKER, BETTE
WELMINGER, TOM
WENDAL, JULIE
WENLOCK, MIK
WERNICKY, AIDA
WERSOCKI, EVA MARIA
WEST, FRAN
WEST, JAY
WEST, LARRY
WESTER, DAVID
WESTPHAL, ANNETTE
WESTPHAL, KJELL
WHEELOCK, THOMAS
WHITE, BOB
WHITE, DALLAS
WHITFIELD, HANNA (ELTRINGHAM)
WHITFIELD, JERRY
WHITSON, BOB
WIEBE, AL
WIECHT, MARLENE (SHINN)
WIKE, VICTORIA
WILBERFORCE, LAWRENCE
WILBUR, GEORGE
WILBUR, LARRY
WILDBANK, CHARLES
WILFERT, JIM
WILFERT, JUDY
WILHITE, CHET
WILKINS, KEVIN
WILKINSON, HOWARD
WILKINSON, JULIE
WILKINSON, STACY
WILLIAMS, DEE
WILLIAMS, DICK
WILLIAMS, MIKE
WILLIAMS, HURIELEY
WILLIAMS, PETER
WILLIAMS, ROBERT III
WILSON, AUDREY
WILSON, DAVID
WILSON, IAN
WIMBUSH, BERNIE
WIMBUSH, BEVERLEY
WIMBUSH, CORALIE
WIMBUSH, EILEEN
WIRZ, ANDRE
WITHE, GEOFF
WOLERY, ERIC
WOLF, SCOTT
WOLFE, RON
WOLFENSON, AMADA
WOLLERSHEIM, LARRY
WOOD, JOHN
WOODHOUSE, VIOLET
WOODRUFF, JOAN
WOODWORTH, CHRIS
WORREST, BOB
WORTH, DENNIS EUGENE
WRAY, HEATHER
WRAY, MIKE
WRIGHT, JIM
WRIGLEY, RICHARD
WSZELAKY, MYRON
WUNDERLICH, KEITH FRANCIS
WYAN, RANDALL
---------------------------------------------------------------
XANDER, PAUL
---------------------------------------------------------------
YACUK, ANASTASHA
YAMET, ROBERT
YARBOROUGH, DOUG
YARID, KEITH
YARROW, ANDY
YATES, ANGELA
YOUNG, BILL
YOUNG, BOB
YOUNG, HOLLY
YOUNG, LOY
YRJONEN, VIRPI JOHANNA
---------------------------------------------------------------
ZACCONI, CRISTINA
ZACHAROPOLOUS, TOKIKO
ZAICHKOVSKI, ROBIN
ZAMBO, GREG
ZAMIT, NORMA
ZANA, LISA
ZANARDELLI, GIUSEPPE
ZANARDI, CARLO
ZANELLA, CLAUDIO
ZANETTI, MARCO
ZANNONI, ELVIO
ZAPUTIL, ANGELA
ZDENICK, SINANDL
ZEER, TERRY
ZEGEL, JON
ZEGEL, VIVIAN
ZEIGLER, AMY
ZENOU, JOEY
ZILE, ANT



---

Go Back to Shy David's Scientology Page.