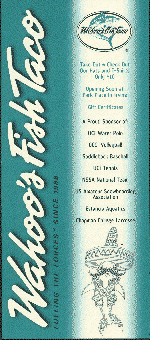 Wahoo's Fish Tacos
Since 1988
---

Wahoo's Fish Tacos is a franchise restaurant with many locations throughout Southern California, and two in Colorado. Two are in Costa Mesa, one in Laguna Beach, Huntington Beach, Lake Forest, Tustin, San Clemente, and Irvine. They have a WWW site at

http://www.wahoos.com/

They reciently increased their prices slightly.

The food is psuedo-Mexican, with tacos, burritos, taquitos, and quesadillas. They also serve salads, soup, and a "Wahoo's Sandwich." My favorates is the vegetarian taco and the vegetarian burrito. The taco shell is soft--- steamed, not fried. The veggie filling for both the taco and the burrito is rice, black ahi beans, lettuce, salsa, and cheese. (If you do not eat cheese, ask and they'll leave it out--- no problem.) One may also get sour cream and / or guacamole with these items if one wishes.

If one is not vegetarian, one may choose from beef, chicken, or fish fillings for the tacos or burritos.

Beer, wine, and soft drinks are available.

The cost of the food is rather high, considering most of it is rice and beans. One veggie taco costs $3.25, which seems rather excessive to me, but I figure it is worth it to me to have someone else do the cooking and the cleaning up.

The "atmosphere" is mostly Surfer-Dude / Skateboarder, and it seems strained at some locations in-land: trying too hard to be trendy, with-it, and cool. Still, it's a fun place to go. Even the local Highway Patrol where I live goes there (better for them than doughnuts).

Phone Numbers:
Costa Mesa: 714 631 3433
Costa Mesa: 714 435 0130
Laguna Beach: 714 497 0033 (my favorate location)
Huntington Beach: 714 536 2050
Lake Forest: 714 830 7386
Tustin: 714 544 1154
San Clemente: 714 487 6995 (next to a movie theater)
Irvine: -unknown-
On the Shy David scale of from one star to six, I think Wahoo's earns



three stars. Though the manager I talked to denies if, I've noticed that one receives less food if one orders "take-out" instead of eatting on the premises.
---

Go Back to Shy David's Food Page.