Give a guy a break: give him a lift
---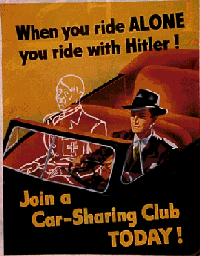 Hitchhiking: To travel by soliciting free rides along a road. Often called "Thumbing a ride," since the would-be hitchhiker sticks out his or her thumb and points it in the general direction he or she wishes to travel. All the traveler needs is time, a thumb, and a nice person with a car heading in the desired direction. There was an excellent Country & Western song, two decades or so ago, called "Riding My Thumb to Mexico," that I often remember when I see hitchhikers on the road.

Give a guy a ride, if you can. After all, the next hitchhiker you encounter may be YOURSELF, in need of a ride.

I have been a hitchhiker a few times, and I have picked up scores of hitchhikers. I'd like to make some suggestions, below, about hitchhiking. By all means accept or ignore them, as is your predilection. Your opinions will differ.
If you are a woman, do not pickup male hitchhikers. I'm sorry about that, guys who may need a ride some day down the road. Male humans are not to be trusted. This has always been the case: it's not some new threat added to the much-lamented "good ole days" where everyone was neighborly and could be trusted--- those days never existed. Women have always been preyed upon by men and boys.

Do not pick up children hitchhikers. One would think this is obvious, but people actually pick up children hitchhikers. Their reasoning is "I am a decient person. Better that I give the child a lift instead of some Roman Catholic Priest or other pervert." Call the Highway Patrol instead: children have no right hitchhiking, and should be prevented from doing so. Only a stupid shit gives rides to children.

Consider hanging a canister of mace or pepper spray from your car's turn signal lever. Put it where hitchhikers cannot see it, and more importantly cannot reach it. Go to your local police department or sheriff's station for instructions on how to use these weapons. Different States have different laws governing the carrying and use of mace and pepper spray.

Never use mace or pepper spray on someone unless you are in imminent danger of bodily harm. Insults or foul language are not valid reasons for gassing someone: you can go to jail for using mace or pepper spray inappropreately. Theft of property is usually not crime enough for you to assault someone.

The above being said, I suggest that you carry pepper spray or mace for the obvious reason: no matter how well and decient you treat people, a tiny minority will return your kindness with violence and abuse. It is much better for you to apply a debilitating weapon instead of a fatal one. If violence is offered, do not hesitate to mace or pepper spray the bastard: do not threaten: act!

With pepper spray, the violent person is usually subdued for roughly 10 to 15 minutes. Pepper spray in the offender's face will usually stop the most violent berserker from continuing his violence or abuse. Most, if not all, public classes available in the USA that teaches how to use mace and pepper spray will include a film showing the effects of the sprays on offenders: it isn't a pretty sight, but it's a DAMN SIGHT better than you being killed, raped, or worse!

Never abuse hitchhikers.

Insist that the hitchhiker puts her or his bags in the boot / trunk of the car, or in the back seat, where it is not readily reachable by her or him. This is simple cover-your-ass advice.

When you pick up a hitchhiker, determine where you are willing to take him or her before she or he enters your car. Inform the hitchhiker that you retain the right to eject him or her from your car at any time, as you wish. You need not explain, nor justify, you decision to drop him or her off.

Keep your sermons to yourself. Most hitchhikers very much appreaciate the ride, but not the sermonizing. Keep your goddamned "Witnessing For Jesus" crap to yourself. It is not moral, nor is it ethical, to lecture / "witness" to a captured audience who feels morally obligated to hear your insane bullshit. Doing so is impolite, and nearly always has the opposite effect you intend: turning people away from your point of view. Expect nothing but gratitude from hitchhikers you pick up. THEY OWE YOU NOTHING! If you really feel the need to abuse him or her with your occultism, give him or her tracts to read or discard as she or he sees fit.

Give hitchhikers food and water, if they are hungry and thirsty. When I was driving home from Colorado, passing through Las Vegas Nevada, I picked up a hitchhiker who was walking down the highway in 112 degrees (Fahrenheit), hatless and waterless, carrying a heavy bag. He was going to Flagstaff Arizona. It was about 1:00 o'clock in the afternoon, so I invited him to join me for lunch. This is just common courtesy--- as you would have people treat you, treat them as they would like to be treated: you may never be "rewarded" or treated as well by someone else, but kindness is its own reward. Incidentally, I drove him all the way to Flagstaff, putting off my trip home, and after dropping him off I had a great time visting the Grand Canyon.

Don't be afraid of picking up hitchhikers. But do be cautious! The vast majority of hitchhikers, male and female, are not violent or abusive. Of the two or three score hitchhikers, not even one has abused or attacked me. A few have been damn odd. Some have been neurotic, psychotic, or delusional. Once one insisted he had been to a flying saucer convention--- and I don't mean a convention held by humans to discuss aliens from space: I mean a convention of flying saucers!
---

Go Back to Shy David's Home Page.