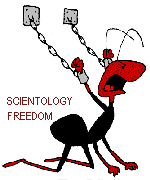 Judge found Hubbard lied about achievements
---
Copyright 1998 Boston Herald Inc.
The Boston Herald
March 1, 1998

INSIDE THE "CHRUCH" OF SCIENTOLOGY: Judge found Hubbard lied about achievements

By Joseph Mallia

The "Church" of Scientology's late founder, Lafayette Ronald Hubbard, left behind a $640 million fortune, and an estimated 25 million words in books and lectures that form the spiritual core of his controversial "religion."

But some of those words are a legacy of exaggerations, half-truths and outright lies, according to Hubbard's son, court records and critics.

"The organization clearly is schizophrenic and paranoid, and this bizarre combination seems to be reflective of its founder LRH, " wrote California Superior Court Judge Paul Breckenridge during a top Scientology defector's court suit against the "church."

"The evidence portrays a man who has been virtually a pathological liar when it comes to his history, background and achievements, " said Breckenridge, who ruled for defector Gerry Armstrong in the 1984 case.

Some claims by L. Ron Hubbard are hard to refute, like his ideas about past lives. He said he was the reincarnation of Buddha, and of British adventurer Cecil Rhodes, the founder of the former Rhodesia.

Other assertions are transparent.

Hubbard - who died in 1986 - claimed to be a nuclear physicist who traveled into outer space without his body to explore the Earth's Van Allen radiation belt. But his two-year stay at George Washington University in 1931-32 shows that he flunked his only course in nuclear physics.

One of Hubbard's key declarations - that by mental powers alone he healed combat wounds he received as a World War II Navy hero - formed the basis of Scientology in the 1950s.

While recovering from war injuries, he "developed techniques which made possible not only his own recovery from injury, but helped other servicemen to regain their health, " the "Church" of Scientology claims in a 1992 edition of Hubbard's book "Dianetics: The Modern Science of Mental Health. "

As a Navy lieutenant, Hubbard commanded at least three ships during the war, including one in the Atlantic - a converted fishing boat, the YP-422, refitted during several months in 1942-43 at the Boston Navy Yard, Navy records show.

In early Scientology biographies it was claimed that Hubbard fought German submarines in the Atlantic. And as recently as January, the "Church" of Scientology's official Internet site said Hubbard "saw action "in the North Atlantic during the war.

But, in an interview with the Herald, a sailor who served on Hubbard's ship contradicted that claim.

"The YP-422 never saw combat, " said former Navy fireman Eugene LaMere, 78, an upstate New York native who now lives in Maryland.

The YP-422 was refitted as a freighter armed with only a 3-inch gun and two .30-caliber machine guns, said LaMere, the first former crewman with direct knowledge of the ship's activities to publicly dispute Hubbard's claim to have seen combat as commander of the YP-422.

And Hubbard's claim of combat, or war wounds, is definitively ruled out by Navy records, according to published reports in Time and Forbes magazines, the Los Angeles Times, the St. Petersburg (Fla.) Times, and books by critics and defectors Jon Atack, Russell Miller and Bent Corydon.

Hubbard was relieved of his command of the YP-422 soon after it set out from the Neponset River on a 27-hour shakedown voyage in September 1942, the reports say.

"Lt. L.R. Hubbard . . . is not temperamentally fitted for independent command. It is therefore urgently requested that he be detached, " the commandant of the Boston Navy Yard wrote in October 1942 to the vice chief of naval operations, the reports said.

According to a court affidavit written by his son, L. Ron Hubbard Jr., the elder Hubbard was "relieved of (military) duty on several occasions, " including once in the Pacific in 1944 when he "apparently concealed a gasoline bomb on board the USS Algol in order to avoid combat. "

The affidavit - obtained by the Herald - is on file in U.S. District Court in Boston in connection with a 1991 suit filed by Scientology against the U.S. Department of Justice and the FBI's Boston office. The "church" had sued under the Freedom of Information Act to gain access to government documents.

And there were other incidents that marred Hubbard's Navy career.

He once ordered a depth-charge "battle " against nonexistent Japanese submarines off the Oregon coast, and he illegally fired on Mexican territory, according to published reports.

An admiral wrote in 1943 that Hubbard was "lacking in the essential qualities of judgment, leadership and cooperation, " and the U.S. naval attache to Australia wrote in 1942, "He is garrulous and tries to give impressions of his importance, " the reports said.

The court affidavit by Hubbard's son also describes some of his father's postwar activities.

Hubbard practiced Satanic sexual rituals in the late 1940s in southern California, and suffered from paranoid schizophrenia, the son said.

"Drug addiction, venereal disease and impotency, wife beating, bizarre 'black magic' occult practices, forgery, writing bad checks, and miscellaneous fraudulent activities including bigamy " preoccupied Hubbard after his Navy discharge, said Hubbard's oldest child - by the first of Hubbard's three wives - who was trying to gain control of his father's estate.

During the late 1940s, while Hubbard struggled to make a living as a writer, he told a group of science fiction writers of his plans to get rich, Pennsylvania writer Lloyd Eshbach wrote in his book "Over My Shoulder. "

"I'd like to start a religion. That's where the money is, " Hubbard said in 1948, according to Eshbach.

Born in Nebraska in 1911 to a career Navy officer, Hubbard was described by friends as quick-witted, with great personal charisma and a gift for writing pulp science fiction.

He had a lifelong affinity for the nautical life and within Scientology he created his own paramilitary version of the Navy, wearing a white uniform with ribbons and gold braid, and appointing himself commodore over thousands of devotees.

By the summer of 1962, Hubbard felt confident enough to urgently request a meeting with President Kennedy, to discuss "his study known as 'Scientology' which he feels vital in space race, " according to a White House memo on file at the John F. Kennedy Library in Dorchester.

"Such an office as yours receives a flood of letters from fakes, crackpots and would-be wonderworkers. This is not such a letter, " Hubbard wrote to Kennedy. He offered to counsel U.S. astronauts for $ 25 an hour, saying he could increase their IQs and stamina.

Hubbard did not get the warm welcome he hoped for from Kennedy.

Apparently believing that Hubbard might pose a security threat to the president, a White House aide wrote a January 1963 memo saying, "Final disposition: respectfully referred to the protective research section " of the U.S. Secret Service, said Maura Porter a Kennedy Library staff member.

Kennedy later sent an indirect answer, Hubbard believed, when the Food and Drug Administration raided the "Church" of Scientology in Washington, D.C., and seized all its "E-Meters " - a device like a lie detector used by "church" counselors.
---

Go Back to Shy David's Scientology Page.