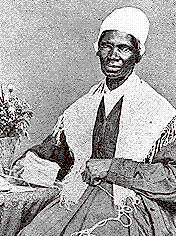 Sojourner Truth
---
Sojourner Truth (c. 1797-1883), American abolitionist and advocate of women's rights, born into slavery in Hurley, Ulster Co., N.Y., and originally named Isabella. (She was freed when New York State emancipated slaves in 1828.) A mystic who heard voices she believed to be God's, she arrived in New York City in 1829, where she preached in the streets. In 1843, obeying these voices, she took the name Sojourner Truth and went preaching along the eastern seaboard. That same year she came into contact with the abolitionist movement, and for the next few years she toured the country speaking in its behalf. Encountering the women's rights movement in 1850, she also added its causes to hers. During the Civil War she solicited gifts for black volunteer regiments, and President Abraham Lincoln received her in the White House in 1864; she later advocated a "Negro State" in the West. Sojourner Truth continued her speaking tours until 1875. An illiterate all her life, she was nevertheless a charismatic speaker, who often drew large crowds to her informal lectures.

Truth, Sojourner \'truth\ . c.1797-1883. American evangelist and reformer, b. Ulster Co., N.Y. Born a slave with the name "Isabella;" freed (1827), taking her former "master's" surname Van Wagener; moved to New York (c.1829), becoming a religious missionary; adopted the name Sojourner Truth and took to the road (1843); gained national fame as a preacher for abolition and woman suffrage; she was appointed counselor with National Freedmen's Relief Association (1864).
---

Go Back to Shy David's Great Human Beings Page.