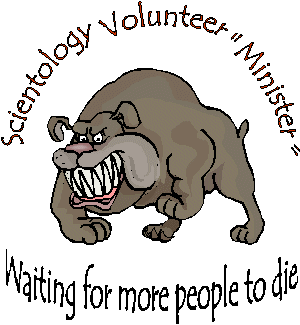 From: "Phineas Fogg" <dont@kneejerk.com>
Subject: An revolting example of a typical Scientologist's mindset
Date: Tue, 05 Nov 2002 19:03:57 GMT

This memo, given during the 911 disasters, clearly illustrates the poisonous arrogant mentality of a typical Scientologist. This proves that, after all training and processing, after spending thousands for such services, and individual is rendered into a state of mind which is probably lower than the average person's. This position this person takes is quite typical of many members of the Church of Scientology.
But first, because the memo is laced with Scientology-speak, if you are not familiar with Scientology jargon, a few definitions:
"dissem" = disseminate
"Psychs" = psychiatrists
"Touch Assists" = a Scientologist places his or her finger on a point, anywhere on a victim's body, and asked them to 'feel my finger', and after they acknowlege, the Scientologists says 'thank you', and repeats this process over and over until the person feels better. (That is the idea, and if one believes this works, it is the kind thing which a placebo mentality can easily take root, for it is a very vague thing, whether it works, or not. It never worked on my headaches, and I had many done on me when I was a Scientologist. I suppose they don't hurt, and may be beneficial. They are not cures for pain, that is certain. I do admit I cannot find fault with the logic that states it is better do direct the mind's attention to the areas of pain, which is the goal of a touch assist. However, serious studies should be done on this, and Scientology, as usual, will not allow double blind studies done out side of its ranks. Moroever, where Scientology dogma takes over, and I find this reprehensible, is that Scientology may direct a person away from needed doctors and medicine, particulary if such medicine is psychotropic, since their "tech" is superior to that offered by psychiatry and psychology).
"Misemotion" = unpleasant emotions.
"Q&A" = Stands for questioning and answering, but not in the sincere sense, it is a tactic used here to confuse, delay, or otherwise block someone from doing something. It is also used to connote when someone is not getting something accomplished, such as so and so is "Q&A ing" with the task, i.e., not getting it done. Here it is being done intentionly to prevent someone from accomplishing something, i.e., not letting the "psychs" help people.
"MEST": = an acronym for matter, energy, space, and time, which is Scientologese for anything material.
"Cycles of action" = a doctrine defining any task, a dogmatic way of thinking about it.
"Restimulation" = Scientology teaches that all of our hang-ups come from "engrams", moments of trauma in our past, when, 'restimulated', by the similarity of the incident at hand to such engram or engrams, causing the individual to become irrational.
"Confront" = same meaning as the conventional, but Scientology has dogmatized the concept, i.e., so and so has a 'low confront', meaning that such a person cannot face something.
"Uptone" == Scientology has a "tone scale", the bottom is apathy, and the top is enthusiasm, so "uptone" would mean near or at the top of this scale.
"Bullbait" = a scientology training drill used to try to divert a parishioner's attention from his task. The idea is that through such a drill, the parishioner will get better at not allowing his attention to be diverted by the "misemotion" or uncontrollable behaviour of a 'preclear' (one who hasn't reached a high point of spiritual awareness on the Scientology charts). Here it is being used intentionally to prevent someone from accomplishing a task. See "Q&A".

Read and judge for yourself:
---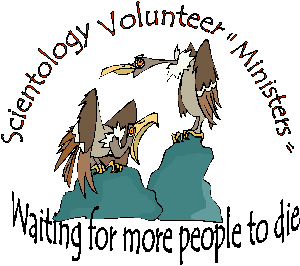 FROM: "Karen Scott" <karen2comm@mediaone.net> TO: <Undisclosed-Recipient:;> DATE: Fri, 14 Sep 2001 <time stamp deleted> RE: READ THIS - Sea Org & Volunteer Ministers in NY
Pls dissem widely to Scientologists.
To: Scientologists <-- From: CO I HELP Canada

Dear All,
For the last two days I have been in New York Org running, with several other Sea Org members, the deployment of Volunteer Ministers into the disaster zone.
We have experienced considerable success making ourselves stable terminals in the disaster zone giving assists and supplying food to the police and fire fighters. We are "the guys in the yellow shirts" and that alone now gets us past the road blocks into southern Manhattan. The Dianetics 1-800 number was placed on the TV as a number to call if you wanted to help. With our higher confront and work ethic we have established ourselves to such a degree that we now have the Red Cross referring social workers and psychologists to us at the org for training transport into the disaster zone. We hat them on assists put a shirt on them and send them in. Our people have been in the area since Tuesday afternoon.
With Scientologists and non-Scientologists combined we have sent out close to 150 Volunteer Ministers so far. At the highest peak so far we have had close to 40 people working the zone at one time.
Tonight, just a short time ago, I took a tour of the disaster zone. I had up to this point not personally gone in.
I'm going to attempt to convey in a few short sentences using our terms what the scene is: It is highly unlikely you have ever scene anything to compare to the sheer MEST damage here. Unless you have been in a bombed out city before. Nothing you have ever seen in any movie comes close to this, nothing. For miles the streets are gray ash and paper mush and the trees are hung with rags of paper from the Trade Towers. Everything as far as you can see is covered with white dust. The number of crushed ambulances and foreignness piled on top each other or lying torn apart in the streets from the second blast and collapse is undesirable I have seen the mountains of bent steel and cement rubble which is all that is left of these buildings. Text cannot convey this reality to you. If you watch the TV footage of ground zero, this is what it looks like.
And there are thousands and thousands of people down there working. Police and fire and national guard and other workers. The sheer magnitude of the operation is difficult to grasp.
You will see the chaos merchants on television gleefully embellishing the misemotion. The truth is the people are working and working and working until they have to rest. They are not misemotional for the most part. They are fittingly sad and angry and tired and stunned but they are carrying on.
What we are aiming to handle is provide adequate support for these people. You will hear the media running a line that "We don't need any more volunteers." What they are neglecting is the old datum that behind any army are 5 people to every soldier acting as support staff to keep him fed and supplied and in shape. This is where we come in and I can tell you now: this area could absorb the efforts of a thousand Scientologists for weeks right now.
Additionally we are trying to move in and knock the psychs out of counseling to the grieving families and that could take another 100 plus people right now. Due to some brilliant maneuvering by some simply genius Sea Org Members we tied up the majority of the psychs who were attempting to get to families yesterday in Q&A, bullbait and wrangling. They have a hard time completing cycles of action and are pretty easy to disperse. But today they are out in full force and circling like vultures over these people and all of our resources are tied up in the support efforts in the disaster zone at present.
There is nowhere on Earth right now that hurts like this place. These are brave people and they are the able and they don't know it but they need the Scientologists with LRH's tech to be here right now. The fire-fighter company down the street from the org lost 14 members on Tuesday. No one can do anything for them or the rest but Scientologists. The other religions here with their ministers have shown their true colors and are working hand in hand with the psychs to give these people as much false data and restimulation as they can. They HAVE NO TECH and they're not even trying to hide it anymore. They've crossed over and abandoned anything spiritual and to hell with them.
The Red Cross has told us when we went to help at their shelters and found no one there, "the people say they are doing fine so we send them back out". Thats because the Red Cross' confront is sooo low they can't even see when people are suffering right in front of them. They are blind. I have stood in Times Square at 7:00pm with people all around and I swear I could have communicated in whispers and been heard at 20 feet, such a hush lies over this place. It hurts. Big time. Nobody is in PT. They are stuck in the incident.
So I'm sending this out to you. It is a direct request for your presence here now. We are uptone. We are making it go right. We need help now. And what this place needs now more than anything else in the whole wide world is more Scientologists here right now.
Thank you.
Lt. Simon Hare CO I HELP Canada (in NY)