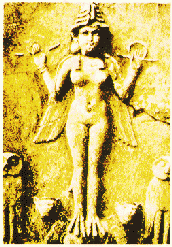 The picture to the left is from a terracotta relief, Sumeria, c2,000 to c1950 BCE. It shows a winged Woman with owl feet, holding noone knows what in both hands (a ring and a staff is one unlikely suggestion; trumpets is another). Around Her are owls. She is trodding on two lions, each facing opposite directions. Lilith is the "She Demon" of ancient Babylonian, Sumerian, Hebrew, and early Christian myth. She is written of in Isaiah 34:14 as a "screech owl," and is a form of apocalyptic harbinger. Her name means "Night," "Lamb Strangler," "Bone Crusher," and other less than pleasant names. She was Adam's first wife, before Eve came along, but She left him because he was arrogant and domineering (or he left Her because She is "shrewish"--- I wasn't there, so I cannot choose sides in the dispute).
These pages show some of the flavor and awe that is Goddess Lilith. Links with the flying seagull are Mariner's Ministries pages.

The Goddess Lilith is currently, here in the 1990sCE, associated with strong, independent women. This may be why contemporary feminism has appropreated Her as a symbol for feminism--- even though there are excellent, real-life women who were and are fine examples to emulate. This appropriation of Lilith by feminists has, by ignorance and by design, rewritten the Lilith mythology: She has taken on aspects and attributes She had not posessed for four thousand years. But that is the nature of Goddesses and Gods.

Lilith is also associated with homosexual women, though I have found no reason in the ancient and contemporary litature of Lilith that supports this association. It is possible that some people equate strong, independant, self-responsible women with "lesbianism:" this seems an unlikely equation to me, since it implies that independence and strength are somehow associated with ones' sexuality--- which is not so.

---

Why Lilith? Why Shy David reveres the Goddess Lilith
Pictures Of Lilith A few pictures associated with the Dark Mother / Seducer. Pictures comprise a total of 249,571 bytes.
Barbara Black Koltuv On of my favorate books: The Book of Lilith by Barbara Black Koltuv. It's translations are shoddy, however, and the scholarship is poor.
JBL Statues Shy David Writes a Letter to JBL Statues
Alpha Bet Ben Sira From the mirash Alpha Bet Ben Sira, with a brief commentary

Leigh Ann Hussey The Poem Lilith, by Leigh Ann Hussey.
Woman's Encyclopedia Lilith, in The Woman's Encyclopedia of Myths and Secrets by Barbara Walker and published by Harper and Row. 1983
The Passion Of Lilith The Passion Of Lilith, by Pamela Hadas
Isaac Asimov On Lilith Here's what Isaac Asimov has to say about Isaiah and his "screaching owl"
Isaiah 34:14 Hebrew examination of Isaiah 34:14
Oh Jezebel By Robert E. Howard
Gilgamesh Lilith in the Epic of Gilgamesh
Lilith, by Enid Dame A Poem
Lilith, by Dante Gabriel Rossetti Another Poem
---

Go Back to Shy David's Home Page.